History in a Pecan Shell
Marie, in west central Runnels County on a county road just south of Farm Road 384, was named for the wife of Walter (Buck) Gentry, a local landowner, when a post office was established there in 1906. Walter C. Bass was the storekeeper and first postmaster. A gin was built in 1904 and operated until 1916. A school started at Marie in 1901. A Woodman Hall was built above the School. The building was also used by the churches. A Baptist Church was organized in 1903 and later a Methodist church was started when the Baptist dissolved in 1916. In 1916 a new two-teacher school was built; it was moved to Bronte in 1938. The post office was discontinued June 14, 1941. Around 1940 Marie had a population of twenty and one store.

The rock store building and several foundations are still standing. In the last few years the store has been redone and is being lived in. Also a new home has been built on the old townsite.

From "Eighteen Ghost Towns of Runnels County" by Alton O'Neil Jr.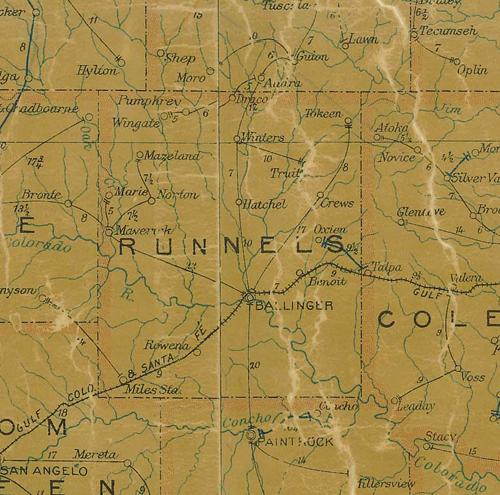 Runnels County 1907 postal map showing Marie
From Texas state map #2090
Courtesy Texas General Land Office
---
Texas Escapes, in its purpose to preserve historic, endangered and vanishing Texas, asks that anyone wishing to share their local history, stories, landmarks and recent or vintage photos, please contact us.