History in a Pecan Shell

Founded in the late 1880s the town was originally named Oso and then Bronco. The request for a post office was rejected and so they settled on the English novelist Charlotte Brontë, but no one seems to remember why. The post office was granted in 1890.

Dr. W. F. Key, is credited with starting the town which could brag of a 213 person population in 1900.

The Kansas City, Mexico and Orient Railway was completed through the area in 1907 (later the Santa Fe). There was a spirited rivalry for the railroad between Bronte and the town of Robert Lee. Bronte won and the town moved a mile to be on the railroad, however it was 1909 before the first train arrived.

Bronte's population came close to breaking 1,000 when 999 people were in town for the 1960 census.
The former Texas Theater – closed but picturesque in its simplicity
TE photo, 2001
Justice of the Peace court in Bronte
Photo courtesy Barclay Gibson, August 2006
More Bronte Attractions
Fort Chadbourne Site: Est 1852 – abandoned 1867 – private property
Cemetery is 10 miles North on Hwy 277.

Bronte Area Hotels:
San Angelo Hotels
Sweetwater Hotels
Bronte Texas' namesake
Photo courtesy Wikipedia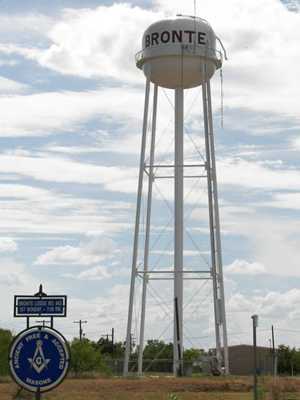 Bronte, Texas Forum
"When Robert Lee Gets a New Railroad"
A letter from Ruth Elliott Sellers

My mother and her family lived in Robert Lee when she was a teenager. As teenagers do, she picked up songs of that era. "When Robert Lee Gets a New Railroad" was written about the time that the towns of Robert Lee and Bronte vied over who would get the railroad. (The Kansas City, Mexico and Orient - later bought by what is now the Sante Fe.) Robert Lee lost and the railway was completed to Bronte in 1907. more


Subject: Tragedy in early Bronte
Greetings: I am responding to your request for stories, etc. about early Bronte, Texas. I was actually seeking material on this myself, and that's why i was looking on the web site.

In April of 1932, my uncle Vernon Lee Young, who was 18 or 19 at the time, was killed in Bronte in a freak accident while playing baseball there. He was hit in the head by a baseball bat after the batter threw it aside to run. I don't know if my uncle was actually playing catcher (as the family says he often did) or was just nearby. Vernon Young lived in Bronte with his parents, Jay and Mattie Young, and his brothers J.D. and Raymond Young, who were 14 and 6 at the time, respectively. He was buried in the cemetery there, I believe it is called Pioneer Rest. They have no record of his grave, but I've seen it as late as the 1960s when my father took me there, and my great-grandfather is buried there, as well as other relatives. Vernon Young's grave was marked with a sandstone marker with just his name and year of death etched on it. At any rate, I'm looking for old clippings, accounts, etc. on this. Thanks for your time. - Shirley Young Jinkins, June 16, 2005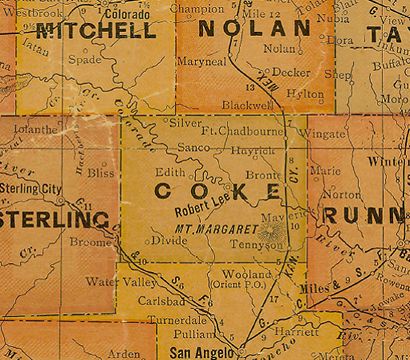 1920s Coke County Map showing Bronte, Robert Lee and ghost towns. Courtesy General Land Office