"[The] well was dug with a pick and crowbar by Jim Whitmore in 1872... the first 12 feet consisted of almost solid rock, but at 28 feet Whitmore hit a source of water that has never run dry, not even during the most severe droughts." - Clay Coppedge.
Photo courtesy David E. Spenser, 2007
The Next Luckenbach?
Historical Museum Town for Sale
Photos Courtesy David E. Spencer
Text from Letters from David E. Spenser
Editor's Note:
Due to the number of towns in Texas, we only use two categories for places. These are Towns (including cities) and Ghost Towns. While The Grove has been designated a Ghost Town by T. Lindsay Baker and qualifies as a ghost by government acquisition and highway bypass, we were pleased to learn that it has been designated a "Historical Museum Town."
Although it will be listed under our Ghost Town section, we wish to acknowledgs the Herculean effort that made the distinction necessary. We learned of The Grove coming on the market by David E. Spencer of Goodwin Partners, Inc. in Austin. Mr. Spencer has the exclusive sale listing for the town. Excerpts from his letters serve as the text on this page:
Description of The Grove
[The property for sale] consists of five buildings, the Bank, the General Store, and the Post Office (decommissioned in 1996 ) are in one building. The Cocklebur Saloon and the Blacksmith Shop adjoin but are actually two separate buildings. The Sheriff's Office is a separate building and there is another building full of historical clippings, pictures and more. The front porch where the bands play every weekend is 12'x32'. Visitors can dance on a paved 30'x60' dance floor and cool their heels in the Cocklebur Saloon where they are invited to BYOB. All is free but donations are accepted.

This is a very well preserved 1860's museum town full of authentic, articles and artifacts from that era. There is also written documentation of The Grove's birth to its desertion in the 40's when TxDOT re-routed HWY 36 around the town by .02 of a mile - diverting the much needed traffic. In addition, 250,000 acres was acquired by the government for building Ft. Hood and later 50,000 acres were impounded to form Belton Lake. Then WWII took all the young men away to fight for God and Country. Not much was left after that.

The town well that was dug in the mid 1860's is still wet and has never been dry.

Bands play every weekend depending on the weather and there are still residents that live here, though only a handful.

My client bought The Grove, Texas downtown, historical, business district in 1972 and has collected more historic artifacts than you can imagine (including a 40,000 year old mammoth tusk and tooth). Everything with the exception of about ten heirloom items convey with the sale.
The 40,000 year old mammoth tooth
Designation and Described Events in The Grove:
The Grove is not a ghost town. It is a Historical Museum Town [and is] listed with the Smithsonian Institution as such.

There have been several pieces of The Grove used in movies. The horse-drawn hearse and wicker casket were used in Lonesome Dove. The bathtub Farrah Fawcett used in The Substitute Wife is in the feed room. Several buggies and even bar fixtures were used in Lonesome Dove.
A horse drawn hearse with a wicker casket
Weddings, anniversaries and other parties are held at The Grove and the Cocklebur Saloon can be rented for private parties. A lot of people come to have family portraits done with the town as a backdrop.

If a person were to open a souvenir shop and a hamburger stand they would do quite well for there will always be tourists that travel here. There are also decent public facilities, not just an outhouse.

I would compare The Grove's potential to the popular Hill Country destination of Luckenbach.

Anywhere from 100-400 people show every weekend to listen to live music, dance and visit the museum, which of course is the downtown business district -featuring the five antique filled buildings mentioned above.


Please contact me if I can answer any questions.
David E. Spencer, Realtor, Goodwin Partners, Inc.
11149 Research Blvd. Ste. #100, Austin, Texas
david@davidspencertx.com
www.davidspencertx.com
November, 2007
The Grove Store & Post Office, TX 76528
Photo courtesy Baclay Gibson, June 2004
People who drop by Dube's General Store here expecting to see a ghost town might leave disappointed. But if proprietor Moody Anderson is there, the visitor won't leave uninformed.

Anderson is the owner of the store, which he bought lock, stock and cracker barrel in 1972. Then he stocked it with everything from candles to coffins. The only place you are likely to find more one-of-a-kind antiques is at his private warehouse west of Austin.

Writer T. Lindsay Baker included The Grove in a book he wrote on "Ghost Towns of Texas." Anderson tried to dissuade him of the notion. "I told him that his idea of a ghost town and my idea of a ghost town must be about 180 degrees different," Anderson says. "A ghost town is abandoned. Nobody ever goes there. That's not the case here."

Indeed, the Grove is the scene of a lot of pickin' and grinnin' especially on Jamboree night the third Saturday of each month. Once a year, when The Grove celebrates itself with The Grove Homecoming the town swells to many times its normal size. This year's celebration begins October 8 and continues the next two days; Saturday the ninth is the big day, when a parade kicks off the celebration.

Residents - real ghost towns don't have residents - marvel that the 76-year old Anderson conducts all the business on Jamboree night himself, including the lifting and toting. He stays until people are ready to go home, then puts up the chairs and closes up. More often than not, he sleeps upstairs in a restored turn-of-the-century doctor's office.

Anderson started his extensive and unique antique collection about fifty years ago with some antique blacksmith tools.

Today a partial inventory reveals cigars, Arbuckle's coffee, cholera tablets, chill tonics, cough syrups, collars and hairnets, pots, pans, singletrees, tethers, tobacco powder and grits and groceries of every description, all of it dating back to 19th or very early 20th century. Anderson's collection has provided movie companies with an almost endless supply of props, especially for projects with a historical setting like "Lonesome Dove" and "The Newton Boys."

Cary White, a production designer for the movie "American Outlaws," said in a 2000 Austin Chronicle interview that he has been working with Anderson since 1988, when Anderson opened a little shop on South Congress called The Texas Trader. "Moody's a wonderful guy, and because of him it's been possible to make movies in this town," White said. "I credit Moody with a lot of the success the film business has had in this town."

Anderson likes working with the movie companies but said he much prefers the laid-back and down home atmosphere of The Grove to Hollywood.


The Grove, named for its large stand of live oak trees, sits just off Highway 36 on the fertile, flinty edge of the Leon River Valley.

Anderson notes that the town's first well was dug with a pick and crowbar by Jim Whitmore in 1872. Anderson says the first 12 feet consisted of almost solid rock, but at 28 feet Whitmore hit a source of water that has never run dry, not even during the most severe droughts.

The town soon grew to more than 400 people and had three cotton gins and a slew of stores.

"I've got pictures of the cotton wagons lined up from Wolfe's gin all the way down this road," Anderson says.

In 1936, the Texas Highway Department (now the Texas Department of Transportation) told the people in The Grove that they would have to cover the well if they wanted Highway 36 to run through town.

People in the Grove refused to cap the well, which still provides water today. That's why The Grove sits a little way off the main highway.

The town held on, but was hit with a double whammy. First, Fort Hood took about 250,000 acres from area farmers and ranchers. Then 50,000 more acres disappeared under the waters of Lake Belton. Still, the town has survived. In addition to about forty residents, the community has a post office, bank, ice house and meat locker, all circa 1900. The upstairs doctor's office is dedicated to J.J. Mitchell, the town's first doctor. Other buildings include Holcomb's blacksmith shop and the Cocklebur Saloon.

For a few years now, Anderson has talked about hanging it up. But so far all he has done is talk.

"I can see selling it in a few years, but I want to sell it to somebody who will keep it going," he said. "I'd hate to see all this auctioned off a piece at a time."


© Clay Coppedge
April 1, 2005 column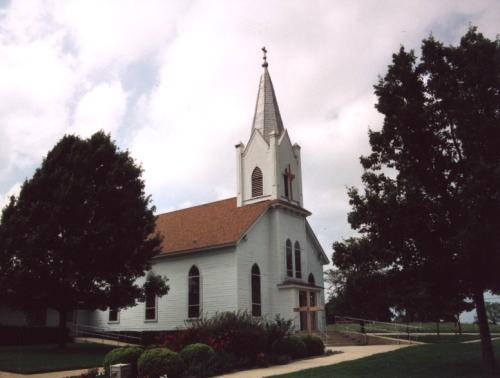 St. Pauls Lutheran in The Grove
Photo courtesy Baclay Gibson, May 2004
Related Stories
Sam Bass: The Not So Merry Bandit

by Clay Coppedge
"...For years - a hundred or more - people have talked about when Sam Bass dropped by The Grove in Coryell County en route to Round Rock. W.J. Graham, who ran a store in The Grove during Bass' heyday, recounted a day when Bass dropped by the store and asked... more
Texas Escapes, in its purpose to preserve historic, endangered and vanishing Texas, asks that anyone wishing to share their local history and vintage/historic photos, please contact us.