---
---
---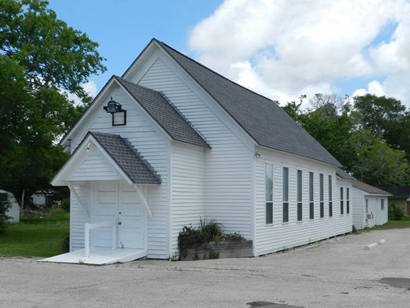 History in a Pecan Shell
Liverpool dates from 1827 when a trading post was in operation. The community started to settled in 1834. There were enough children in 1836 to warrant a teacher.

An "official" founding occurred in 1837 when the fledgling town served as an outlet for products shipped out from Stephen F. Austin's colonists.

The borrowing of the name of the English port was suggested by a local man named "Commodore" Nelson who may or may not have once been a bone-fide naval officer. The community submitted the name on the application for a post office which opened in 1846 and lasted only three short years.

It reopened in 1879 and was still operating in the 1990s. The tiny community is to have peaked shortly after the Civil War, but in the mid 1880s, it had a meager population of just 20 residents. The 1890 census counted 136 Liverpudlians.

In 1906 Liverpool had forty-eight pupils taught by three teachers. In 1914 the population had grown to 400 and besides two stores, the town had the luxury of a hotel.

After a decline from the 1920s and through the Great Depression and WWII, Liverpool reached 150 people in the mid 1960s and by the late 1980s, it had swelled to 627.

The 1990 census counted just 396 people and the 2000 census counted eight more people, bring it to 404.
---
Texas Escapes, in its purpose to preserve historic, endangered and vanishing Texas, asks that anyone wishing to share their local history and vintage/historic photos, please contact us.
---
---
Liverpool, Texas - Texas Escapes' 3000th Town
June 17, 2014