History in a Pecan Shell

Josiah Hughes Bell is credited with founding the town in 1823. His plantation, known as Bell's Landing supplied other settlements along the river. In 1824 Bell platted a town and called it Marion. Lots were sold in 1829, but were unsuccessful. In 1831 the town had a mere handful of cabins, a store and Bell's home. Wharves and warehouses were built and ships shuttled between East Columbia and New Orleans.

Bell sold the growing town to Walter C. White in 1827, but the town was still called "Bell's Landing" through 1840. Two years later it was known as West Columbia, and finally was renamed East Columbia. When Houston became the capital of Texas, East Columbia prospered. It received another boost with the arrival of the Houston Tap and Brazoria Railroad in 1859. The onset of the Civil War stopped East Columbia's prosperity. The town had a population of 800 in the mid 1880s and a few years later it hit 1,500. Another period of decline set in and by 1914 it was down to 150.

The local post office once known as Columbia, was renamed East Columbia in 1927. The population declined to a low of 89 in the early 70s.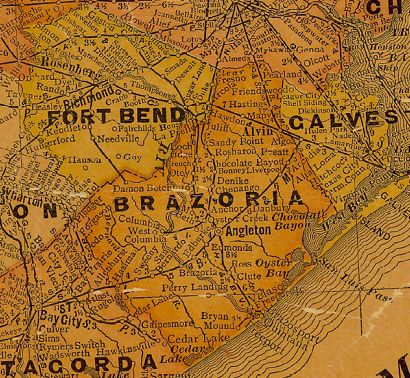 1920s Brazoria County map showing "Columbia"
Courtesy Texas General Land Office