NEEDVILLE, TEXAS
Fort Bend County, Texas Gulf Coast
Highway 36, FM 1236 and FM 360
14 Miles S of Richmond
Population 2,609 (2000)
History in a Pecan Shell

First named Schendelville after store and gin owner August Schendel, the town began in the early 1890s. When August made an application for a post office (1894) he jokingly asked that it be called Needmore, but some postmaster in West Texas had beat him to it, so the authorities took the liberty of altering it to Needville.

A school opened in the late 1890s about the time the town was platted and lots sold. The population was 100 in 1914 and the town received a phone connection two years later. The Galveston, Harrisburg and San Antonio Railway arrived in 1918. The population had increased to 500 by the 1920s and Needville had its own electric generating plant. In 1932 Highway 36 was constructed, giving the town it's first all-weather road connecting it to other towns.

Needville students were bussed to Richmond and Rosenberg until the late 1940s when Needville formed its own ISD. The high school opened in 1948, and the elementary school in 1960. The high school suffered an arson fire in 2007, which destroyed much of the original building.

The N. A. Allen Elementary School was constructed for Black students in 1960 and integrated six years later. The town got its first library in 1974. The 1950 population was just over 600. It grew to 2,199 by 1990 and 2,609 for the 2000 census.

See Needville Historical Marker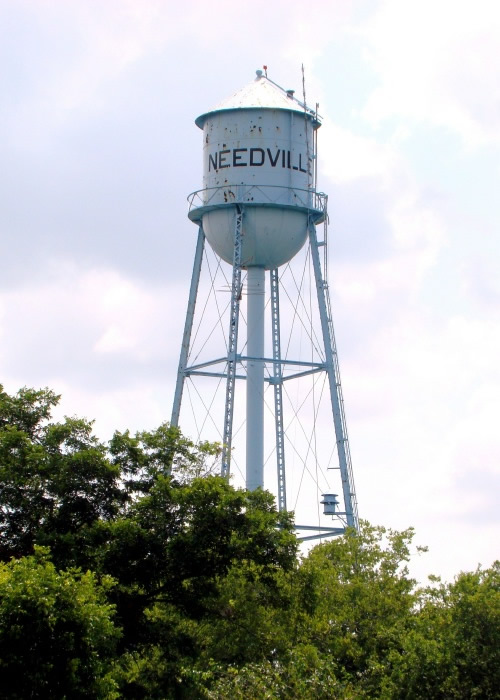 Needville Historical Marker
Photo courtesy Barclay Gibson, February 2009
Town of Needville Historical Marker Text
Had beginning in 1892 when settler August Schendel opened general store, here, on his land. Blacksmith shop, cotton gin, and room for post office had been added by 1894, when Schendel was appointed first postmaster.

He suggested naming place "Needmore" because it needed more of everything, but another town already had that name.

Slowly village became trade center. First church service was held 1891; school opened by 1897.

Early economy, based on stockraising and farming, was altered radically with discovery of oil, natural gas, and sulphur, 1920s-30s.