TOMBALL, TEXAS
"Oil Town U.S.A."

Harris County, Texas Gulf Coast
FM 2920 and Hwy 249
30 miles N of Houston
10 miles W of Spring
Population 9,089 (2000)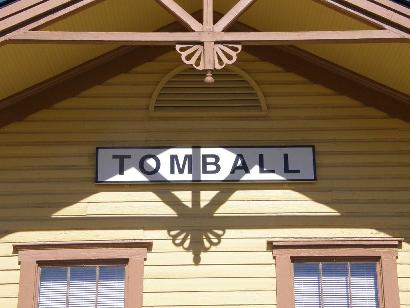 History in a Pecan Shell

Settlement in the area goes back to 1838 when land was granted to heirs of William Hurd. As a community started developing it was named Peck after a civil engineer. In 1907 the Trinity and Brazos Valley Railroad gave Peck not only a depot - but a roundhouse that could accommodate five locomotives.

In late 1907 the name was changed to Tomball for the man (Thomas Henry Ball) who had brought the railroad to Peck. The next year a post office was granted.

The population was 350 in 1914. The town led the normal agricultural lifestyle of its neighbors until oil was discovered in 1933. Humble Oil and Refining Company convinced the citizens of Tomball that if they could be allowed to drill that worthless, nasty oil from Tomball's city limits - then the citizens would get free gas and water for 99 years. Such a deal.

Tomball became known as "Oil Town U.S.A." and the population trebled from the 665 people present in 1933. An estimated twenty-five to thirty oil companies had sunk wells within five miles of downtown Tomball. Humble, perhaps feeling guilty over hoodwinking the Tomballers, built housing and recreation facilities for its workers. Robert Ripley included Tomball in his syndicated Believe It or Not column for being the only city with free gas and water but no cemetery.

By 1960 Tomball's population was 1,173, and by the mid 1980s it had broken the 5,000 mark.
The former depot awaits restoration
Photo by John Troesser, 9-04