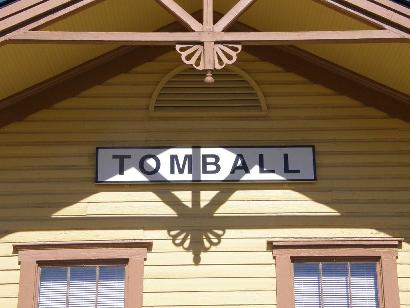 History in a Pecan Shell

Settlement in the area goes back to 1838 when land was granted to heirs of William Hurd. As a community started developing it was named Peck after a civil engineer. In 1907 the Trinity and Brazos Valley Railroad gave Peck not only a depot - but a roundhouse that could accommodate five locomotives.

In late 1907 the name was changed to Tomball for the man (Thomas Henry Ball) who had brought the railroad to Peck. The next year a post office was granted.

The population was 350 in 1914. The town led the normal agricultural lifestyle of its neighbors until oil was discovered in 1933. Humble Oil and Refining Company convinced the citizens of Tomball that if they could be allowed to drill that worthless, nasty oil from Tomball's city limits - then the citizens would get free gas and water for 99 years. Such a deal.

Tomball became known as "Oil Town U.S.A." and the population trebled from the 665 people present in 1933. An estimated twenty-five to thirty oil companies had sunk wells within five miles of downtown Tomball. Humble, perhaps feeling guilty over hoodwinking the Tomballers, built housing and recreation facilities for its workers. Robert Ripley included Tomball in his syndicated Believe It or Not column for being the only city with free gas and water but no cemetery.

By 1960 Tomball's population was 1,173, and by the mid 1980s it had broken the 5,000 mark.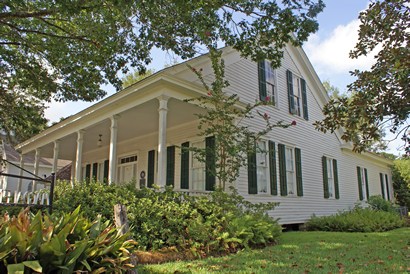 Griffin House in Tomball's Museum Center on North Pine Street
Courtesy City of Tomball
It's that time of year. The sun sets a bit earlier each day. Cool evening breezes bring with them strange rustling sounds in the night, while indistinguishable shadows dance beneath the full moon. It's almost Halloween in Tomball, Texas.

By day the City of Tomball, 25-miles northwest of Houston, is filled with thriving antique and specialty shops, mom-and-pop eateries, entertainment and a quality of life that makes living in a small town special.

Despite the lively daytime activities here and in communities just a short drive away, it's rumored that after dark the surrounding countryside is filled with a nightlife better suited for those who have crossed over. No, not into Montgomery County . . . those who have passed away, yet feel the need to remain in Tomball.

THE MUSEUM MYSTERY
SPRING CREEK SPECTERS
GRAVEYARD GOTCHA
The former depot awaits restoration
Photo by John Troesser, 9-04
Texas Escapes, in its purpose to preserve historic, endangered and vanishing Texas, asks that anyone wishing to share their local history and vintage/historic photos, please contact us.
Custom Search