Rocksprings Texas Points of Interest
History in a Pecan Shell

The county is named after early colonist Hayden Edwards of Nacogdoches.The city is named after the Springs. After the courthouse burned, the spelling of the town changed from Rock Springs to Rocksprings.

1881 was the year the site was selected, the year they got a post office and the year they were made county seat. The population was 250 in 1892 and the town had everything they needed. By 1914 the population had doubled.

The tidy courthouse and jail sit on the square and speak of a small population. The courthouse was damaged by a tornado in 1927 that killed nearly 70 people. Both the Courthouse and The Rocksprings Hotel served as shelters.

Rocksprings underwent a flurry of activity in the year 2000 with buildings on the square remodeled, freshly painted or under construction.
Vintage postcard of 1927 Rocksprings Tornado destruction
Courtesy of Barrows family
1927 Tornado injured child
Vintage photo courtesy of Barrows family
Wool and Mohair
Rocksprings is also a big center for wool and mohair which is attested to by the name of the weekly newspaper: The Rocksprings Record and Texas Mohair Weekly.
Robert L.Barrows with wagons of wool leaving Rocksprings for Sonora Texas.
Vintage photo courtesy of Barrows family
Historical Marker Text
The Rock Spring
Known to early Texans as one inch flow of water out of rocks. Site of a camp for travelers and freighters. Occupants of land around the spring included W. J. Greer, with a sheep camp, 1882; Francis Winans, with a cattle and sheep ranch, 1884; A. O. Burr, farming, about 1885. Cattlemen, including Frank Gray, camped here during roundups. Outlaws in 1880s frequented a hut nearby. Rocksprings Post Office opened 1891 in townsite platted for a new county seat at center of Edwards County. The rock spring still seeps in city and county historic park and playground.
(1972)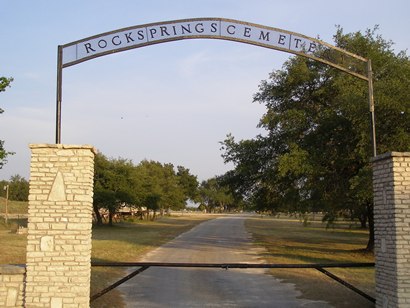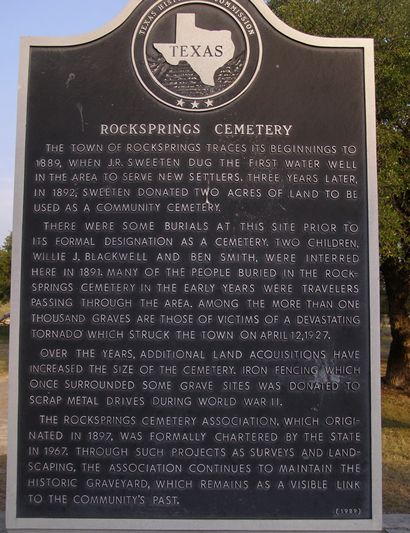 Historical Marker Text
Rocksprings Cemetery
The town of Rocksprings traces its beginnings to 1889, when J. R. Sweeten dug the first water well in the area to serve new settlers. Three years later, in 1892, Sweeten donated two acres of land to be used as a community cemetery.

There were some burials at this site prior to its formal designation as a cemetery. Two children, Willie J. Blackwell and Ben Smith, were interred here in 1891. Many of the people buried in the Rocksprings Cemetery in the early years were travelers passing through the area. Among the more than one thousand graves are those of victims of a devastating tornado which struck the town of April 12, 1927.

Over the years, additional land acquisitions have increased the size of the cemetery. Iron fencing which once surrounded some grave sites was donated to scrap metal drives during World War II.

The Rocksprings Cemetery Association, which originated in 1897, was formally chartered by the state in 1967. Through such projects as surveys and landscaping, the association continues to maintain the historic graveyard, which remains as a visible link to the community's past.
(1989)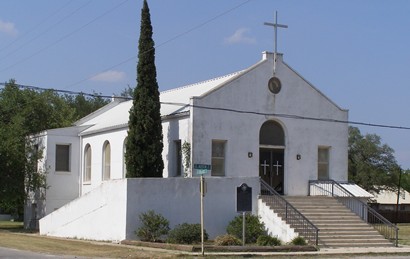 Edwards County Towns and Ghost Towns
Rocksprings Nearby Destinations
Custom Search
Book Hotel Here - Expedia Affiliate Network