"Not much here, but here is some of it."
Photo courtesy Ken Rudine, July 2006
History in a Pecan Shell
Another town established by the Fort Worth and Denver City Railway, Ashtola began life as a simple railroad section house in 1906. The site was known as Southard and a post office was applied for and was granted that same year. Within two years the community had a school and two stores.

Southard may have caused some confusion with similarly spelled towns and in 1916 a change of name was requested by the post office department. A man named W. A. Poovey was asked for a new name. After he modestly suggested Poovieville, the postal authorities chose Ashtola - a name with no known origin, but with considerable more dignity than Poovieville.

The population was still estimated at a mere 25 people when the Great Depression hit. A home demonstration club was formed which later evolved into the Ashtola Needle Club. Ashtola had a gristmill which remained in operation until the early 1970s, but the post office closed in the mid-1950s. When the Ashtola school merged with Clarendon's schools in 1958, the former school was made into a community center.

From 1949 through the mid-1960s the estimated population was 50 - dropping to 25 in the late 1960s. From 1970 to 1990 the population was given as 20 and what it is today is anybody's guess.
---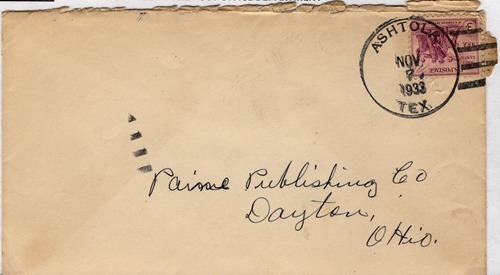 Texas Escapes, in its purpose to preserve historic, endangered and vanishing Texas, asks that anyone wishing to share their local history, stories, landmarks and recent or vintage photos, please contact us.