History in a Pecan Shell

Founded in 1890, the town had been named Wright, after a local preacher. On the stage coach line from Canyon to Plainview, with a school, post ofiice and store, it had everything a 19th Century town needed to prosper.

When the railroad arrived in 1906, the post office / store moved to the rails. The town was renamed for Pioneer George H. Kress.

In 1909 a promotional booklet gave the town's population as 500 - a number that was probably inflated. The first school opened in 1907. In 1915 the first garage and filling station was erected, a grain elevator was built, and a weekend rodeo was organized for local recreation.

The main highway through town (Hwy 87) has moved twice - forcing businesses to relocate as well. Infrastructure in the form of electricity and gas were introduced in the late 1920s.

Kress was home to over 650 people by 1953. A bank opened in 1963 - ending a bank-less period that had lasted from the 30s to that date.

Kress, Texas Photo Gallery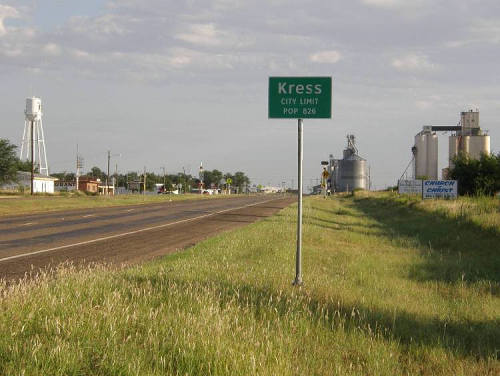 "Kress was home to all of my grandparents. I lived there from 1943 to 1948. I planted the pine tree just south of our house on old 87 across the street from and just north of Losson's Service Station in 1943. The last time I was there it still stood and was the only pine tree in Kress.

Here are a few vintage photos. It was great to live in a town where everyone was a friend." - Jack Williams, July 12, 2005
Mary, Jack and Vida Williams, 1943
"The photo is looking east from our house (the one by the pine tree) toward the grain elevator run by our next door neighbor, Marvin Morton." - Jack Williams
"Yvonne and Jack in 1938 or 39 at the home of Oscar Williams. The camera is looking East. Across the street to the right, is the old Church of Christ. The old Church was just west of the present church and faced West." - Jack Williams
Kress, Texas Forum
Kress of New Deal
I just wanted to share the fact that I was actually named after this town. My parents grew up in Lubbock and although I was raised in the small town of New Deal, we have a family tradition of names beginning with K, so I became Kress. I have been to Kress a few times but all I can remember is the Alsups [store]. When I was younger people would tell me that I should run for mayor of Kress. I am just not old enough yet! - Kress Hoopes, Odessa Texas, October 10, 2008
Remembering Christmas
by Louise George