History in a Pecan Shell
R. E. Cartledge and L. B. Harris are credited with being town founders, using their land to form the new town and name it after the Confederate general. Harris and Cartledge had planned to wrest the county seat status from Hayrick, and they succeeded in an election held in 1891.

The population of Hayrick gave Robert Lee its first boost. Robert Lee's post office opened that year and a new courthouse was constructed. The population stood at 750.

Robert Lee incorporated in 1929. Throughout the years the town has thankfully escaped fire and tornadoes and the residents enjoyed the tranquility. The population remained under 1,000 residents until the early 1950s. A new high of 1,391 was reached in the late 1980s.

Robert Lee, Texas Landmarks / Attractions: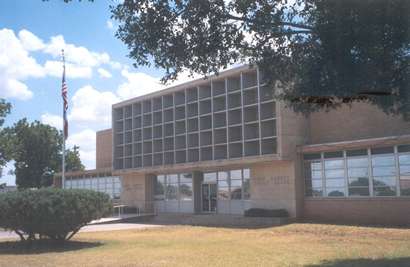 "When Robert Lee Gets a New Railroad"
A letter from Ruth Elliott Sellers:
My mother and her family lived in Robert Lee when she was a teenager. As teenagers do, she picked up songs of that era. "When Robert Lee Gets a New Railroad" was written about the time that the towns of Robert Lee and Bronte vied over who would get the railroad. (The Kansas City, Mexico and Orient - later bought by what is now the Sante Fe.) Robert Lee lost and the railway was completed to Bronte in 1907... more
Coke County 1920s Map showing ghost towns not on the map today
Courtesy Texas General Land Office
Texas Escapes, in its purpose to preserve historic, endangered and vanishing Texas, asks that anyone wishing to share their local history and vintage/historic photos, please contact us.
Custom Search