Could this have been the former post office?
Photo courtesy Barclay Gibson, April, 2006
Delightful Detour by Billy B. Smith

"The sixteen-mile delightful detour [through Gordon, Mingus and Strawn] reminds me that there once was another America, a wistful place full of pleasant and pensive scenery..." more
---
History in a Pecan Shell
Named for settler William Mingus, who arrived in the 1850s, the town was born with the arrival of the Texas and Pacific Railroad in 1881. Mingus has remained quiet with no disasters or noteworthy events to report.

The town hit its zenith from 1920 - 1930 with an estimated population of 1,100. By the end of the Great Depression there were less than 600 people left.

Mingus' post office has managed to stay open and according to the 2003 state map, it still serves a population of 246.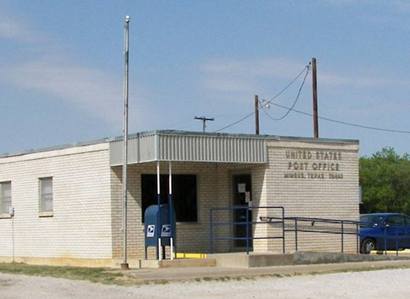 Mingus, Texas Forum
Subject: Mingus, Texas
Just a note to mention that when I was growing up in Mineral Wells (also in Palo Pinto County) in the late 50's and 60's, Mingus was the only place in the county where one could legally purchase hard liquor. Hence, "going to Mingus" was local code for "going to buy a bottle". My dad had a good friend who lived in Mingus, Mr. Lawrence Santi; both were much interested in local Democratic politics, for one thing, but I suspect that my dad's 30-mile drives to visit Mr. Santi often had an additional, liquid motive. - Bob Hampton, Byers, Texas, March 15, 2016
---
Delightful Detour by Billy B. Smith

"The sixteen-mile delightful detour [through Gordon, Mingus and Strawn] reminds me that there once was another America, a wistful place full of pleasant and pensive scenery..." more
---
Texas Escapes, in its purpose to preserve historic, endangered and vanishing Texas, asks that anyone wishing to share their local history, stories, landmarks and recent or vintage photos, please contact us.