History in a Pecan Shell
It was named for Walter S. Posey. [ See Naming of Posey ]

In the mid 1930s Posey had a population of 25 residents served by three businesses. By 1941 it had grown to 70 residents and amenities included a school, church and a grain elevator.

The Posey school merged with Slaton schools prior to 1960 and the population reached 120 in the early 1950s. It remained there through the early 1970s. In 1974 the population grew to 125 and remained at that level through the early 1990s.


Photographer's Note:
Posey - no beach... Gin & Church only... Will provide its own flowers for the service - soon... - Rick Vanderpool, June 10, 2010
Posey, Texas Forum:
Subject: Naming of Posey, Texas
I came across the page that you have published in the magazine concerning the name of Posey, Texas. Although all the family is pleased and happy to see any commendation of Uncle Walter S. Posey, he would be the first to point out to you that the information that you have on the naming of Posey, Texas ["Walter S. Posey who was instrumental in arranging for the railroad to have a right-of-way through the future town."] to be incorrect.

In 1904, James B. Posey, Walter's father, and Lewis T. Lester purchased the controlling interest in the First National Bank in Lubbock where Walter S. Posey became the cashier. Later on, in 1908, the James B. Posey family moved to the farm that they had purchased that was between Lubbock and Slaton and built a house on what later proved to be right in the center of the survey of the proposed railroad line right of way. The family jacked up the house and moved it about a mile north and when the railroad was established a switch was installed on the site of where the Posey house had been and so it was called "Posey Switch." Later when a community grew up around that site, the name was abreviated to "Posey."

Often erroneous information gets published as fact and, trivial as the above correction may be, it is the true story of how Posey, Texas was named and does not belittle all the fine accomplishments and improvements Walter S. Posey brought about for the Lubbock area.

- Sincerely, Mrs. John E. Williams (John E. Williams is a great grandson of James B. Posey and a great nephew of Walter S. Posey.) December 19, 2010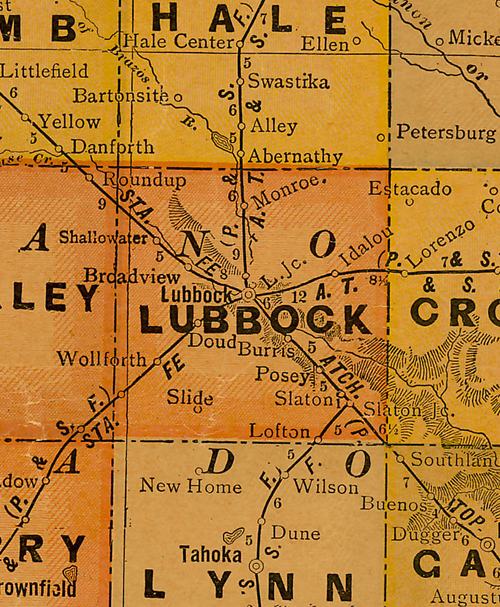 Lubbock County 1920s map showing Posey along the railroad track
From Texas state map #10749
Courtesy Texas General Land Office
Texas Escapes, in its purpose to preserve historic, endangered and vanishing Texas, asks that anyone wishing to share their local history, stories, landmarks and recent or vintage photos, please contact us.