History in a Pecan Shell

The town was named for the Cornudas Mountains, fourteen miles to the north.

The settlement was founded in 1938, when a post office was opened for the area's cattle ranches. It closed within the first year of operation. Mrs. Willie Tinnin had been appointed the postmistress.

Six miles south of the highway was a pumping station and a church building and school. Cornudas continues to be shown on maps - if only to fill in some of the white space.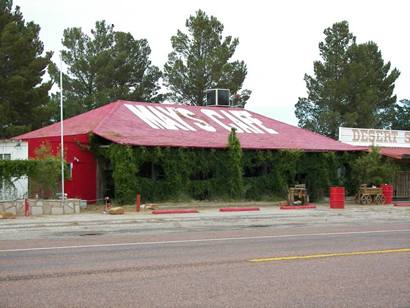 Cornudas, Texas Update
In reguards to Cornudas, TX. May's Café as well as the whole town of Cornudas is once again under the ownership of Mayor May Carson. She will be reopening the café in May 2009. Same great Cornudas Chile Burgers! Thank you, Kelcey Hollingshead, April 23, 2009

Photographer's Note:
...Cornudas was sold several years ago. May Carson had run the old cafe for years and had quite a following of truckers, helicopters, convoys and even wagon trains. It is 103 from Carlsbad and about 53 from El Paso. She decided to sell it on the internet... Anyway, this man Wallace bought some old buildings in El Paso and had them moved to Cornudas. He has great plans and spent a lot of money setting Wallacetown USA up. It now appears to be all locked up but visible from the road... - Barclay Gibson, November 21, 2007
Cornudas Texas Forum
Subject: Hudspeth County
Dear Texas Escapes, I just stumbled onto your tour of Hudspeth county. I am enjoying it, but.... you stated that six miles south of Cornudas was a Standard Oil pumping station. It is in fact an El Paso Natural Gas pumping station. I believe there is still an E.P.N.G. booster station there. The school was for First and Second grades only, 3-12 went to Sierra Blanca. As far as I know there was never a church there. What you may be referring to was the REC. HALL. It belonged to E.P.N.G. at Station #2 and was used for dances, pot luck suppers, and sometimes (when they could get a preacher) maybe church services, but you would probably have to move the pool table and jukebox.

At Station #2 there were twelve company houses, four duplexes, the recreation hall, the schoolhouse, and the teacher's house. About two miles east of Station #2 is Cornudas Station's five houses. The Cornudas Station comperssor is still there, but all of the houses have been sold and moved.

You also said you were looking for a Yucca forest. If you look at a map of Cornudas you will find FM 2317 goes south then turns hard east. If you you go about a mile due west of the turn - there used to be a very big collection of Yuccas. That was back in 1968. 30 years change a lot of things. - Eddie Stephens, September 06, 2006


We were the second owners of Cornudas. We bought it from Lee and Wanga Tinnin. His mother started it in 1928. She had land across the highway but the highway was going through and she used squatter's rights and moved to the present location. - Bev, July 30, 2002

More Texas | Online Magazine | Texas Towns | Ghost Town | West Texas |

Book Your Hotel Here & Save
El Paso Hotels
More Hotels