OLD EE Stricklen Ranch of Juno
painted by Carcie B. Stricklen 11-10-1971.
Photo courtesy Ian McGill
History in a Pecan Shell

The supposed origin of the town name had nothing to do with goddesses, astronomy or rotund women.

According to legend:
There was a café that was run by a man who liked to keep things simple. Beans were the only food item served and beer the only beverage. When local patrons would ask "what's on the menu" he replied "Ju know".

The local joke somehow got put on the post office application and it sounded good to the postal authorities who approved it.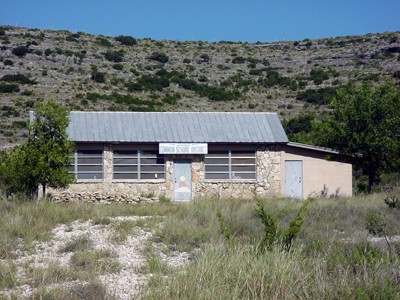 A timeline of significant historic events in Juno
1849: troops were stationed at nearby Beaver Lake, to protect travelers from Indians.

1880s: the communityestablished itself as a ranching supply center and the post office opened.

1899: the townsite was surveyed, and fifty lots were laid out.

1901: the town had segregated schools (in the same building) with a combined enrollment of over 115 students. A hotel was opened and the town was served by a stage line.

For 40 years the population hovered around 75 people, but in 1966 it had shrunk to only 50. It declined further, until only 10 people lived there from 1968 to 1990.

In 1984 the last business in Juno closed and the post office has been closed since 1975.

The story of Juno might have had a happier ending if the café had only expaned their menu.

Book Hotel Here > Del Rio Hotels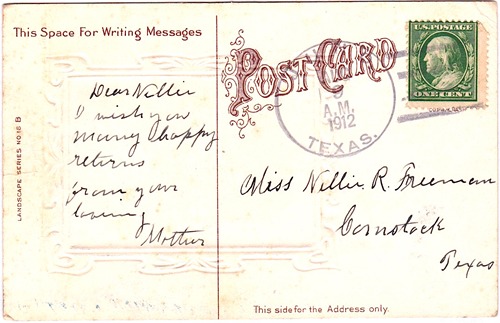 Juno, Texas Forum
Subject: Juno Texas
I happen to buy this painting at a garage sale several months ago near my home in Austin and through a friend stumbled upon your site. The painting is of the OLD EE Stricklen Ranch Juno Texas and was painted 11-10-1971 by Carcie B. Stricklen. This information is printed on the back of the frame. It is a beautiful landscape painting and I am planning a road trip in the fall to see if I am able to find it. I hope that you find this information helpful. - Ian McGill, July 02, 2006


Subject: Juno Texas
Dear TE, First let me just say that I got so excited when I came across [your magazine] and saw a picture of the old Juno school house and playground.

My mother was actually the last teacher to teach at that school. My family moved to Juno in 1990 and lived there until 1992, when the school was shut down. I have so many stories to share that I am not even sure where to begin. I have often wondered if the school was ever torn down and what became of the Mayfield Country Store that was just four miles up the road. I also wondered what happened to the people of Juno after we left. I have especially wondered what became of my old classmates and how they did at the "big school" in Comstock. Some of us were pen pals for a short time but ended up losing touch. I went through 4th and 5th grade at the school. We were such a tight knit little group. We would have end of school BBQs, Christmas parties, Mother's Day lunches, pizza parties for good behavior. My family lived in a house that was right next to the school. It was owned by the district and we were told that the district would have it removed when the school closed.

We used to have a rainy season in Juno. If I remember correctly it was sometime around September and October. This is the time of year when the rains were the heaviest. The rain would flood the crossings and draws making it impossible for the other students to get to school. So on those days we would have to cancel school. Another great memory is going out to the flag pole every morning and raising the flag, then taking it down each evening.

I have not been to Juno since we left in '92 but Juno has never left my heart. I have plenty more stories to share so if you care to hear more, feel free to contact me via e-mail. I also have a photo album of our days at the Juno school house. - Bridget Loza, Bridget.Loza@wwt.com, Juno Common School District Alumni, Dallas, Texas, September 08, 2006
Texas Escapes, in its purpose to preserve historic, endangered and vanishing Texas, asks that anyone wishing to share their local history and vintage/historic photos, please contact us.
Custom Search