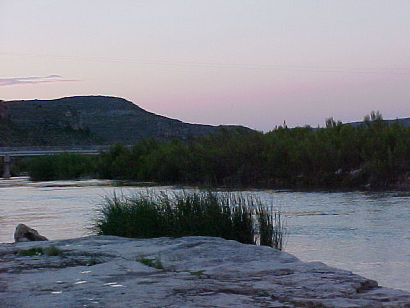 Pandale, we're told, takes its name from its pan-like shape and it's location in a valley (dale). There isn't as much in Pandale as there once was, but there's still more here than there is for forty miles in any direction.

The Official State Highway map shows Pandale as being on the end of FM 1024, which it is. However, it can also be reached heading Southwest out of Ozona, although the paved road ends at the Crockett County line.

Pandale had a post office (occupying 6 different locations ) from 1909 until 1977. Their school consolidated with the Comstock ISD in 1969 and their last business closed its doors in 1973.

Today Pandale serves as a drop off point for canoeists wanting to canoe the Pecos. The name Pandale is also given to a particular type of arrowhead or "point" that was originally discovered here.
Community Center / Schoolhouse in Pandale
Photo courtesy Erik Whetstone, August 2005
Pandale
"Pandale and the Pecos River that runs near it is just about my favorite place on earth. My brother roughnecked in that area in the 70's and would always spend time there camping when he could. The scenery is beautiful and the river runs cold even in the 100 degree plus summer days.

That area of the Pecos River once had a large indian population and while walking along the river bank you will find more worked pieces of flint than is possible to count and in many of he nearby hills it is quite easy to spot indian caves, however, they are all on private property and not accessable unless you "know someone".

Up until the mid 90's, FM 2083 that runs from Ozona, through Pandale, and then on to Langtry, crossed the Pecos via a Low Water Bridge and would become impassable during heavy rains. In the following pictures you can see remains of the old bridge and the new bridge in the background."
Remains of the old bridge
Photos courtesy David Armstrong, 2005
Indian cave
Photos courtesy David Armstrong, 2005
"Now, (the last time I was there in 2005), Pandale does have an open business, a camping area with a small store at the old crossing location. I wish I knew more of the area history, I bet it would be colorful and interesting.

Thank you for Texas Escapes, It is a frequent destination when time permits" - David Armstrong, February 27, 2011
Pandale Texas Area Destiantions
Langtry
Welcome Station and Judge Roy Bean's Jersey Lily combination Courtroom and Saloon.

Seminole Canyon State Park
20 miles East of Langtry - Hiking tours visit 4,000 year-old pictographs at Fate Bell Shelter - Wednesday through Sunday at 10:00 a.m. and 3:00 p.m. - 915- 292 - 4464

Pecos River Bridge
US 90 at Pecos River - Both sides of Hwy 90 offer rest areas with stunning views of Pecos River South side has more more encompassing view along with picnic tables.

Canoe the Pecos
"There's a point on the river where the traveler becomes committed to the rest of the trip. That point, for me, is reached at mile six - whether the destination or just an overnight stop. As a destination, the return trip to Pandale is a short hike. Boulders, swift water, sun, heat and isolation ensure only the most determined and well-prepared canoers make the 60-mile trip through Val Verde County from Pandale to the new temporary boat ramp near the Rio Grande... more

Comstock

Where to Stay - Pandale Area Hotels
Ozona Hotels
Pandale Texas Forum
Subject: Pandale
My dear mother, Lorene Earwood (Gilmore), spent her young years with her then husband, Floyd Earwood on a ranch near Pandale, Texas. Their marriage would've been 1918-1927 She later lived with her Aunt Ida and Guenard Stephenson on another large ranch near Pandale.

She told me many times of how a lady rode horseback across the Pecos River Railroad Bridge to collect her mail!!!! I think that the time frame [was] 1915-17.

I cannot imagine anyone in this era doing the same. Do you or any of your readers have any information about this brave woman?

I am sure the Earwood Family(at least some of them) still live the Del Rio, Uvalde and maybe even Pandale area. I know the Stephenson family were prominent ranch family and they lived in Sonora. Mother and Mr. Earwood divorced in 1928-29 . Mother and Mr. Earwood had a five-year-old son named Norman who was dragged to death on the Pandale ranch. He is buried in Del Rio.

I wish I could tell you more. Mother repeated this story all my life. I wish I had listened and ask more questions! - Thank You - Colleen Gilmore Collier, October 31, 2005

Where to Stay - Pandale Area Hotels
Ozona Hotels
1940's Val Verde County map showing Pandale near Crockett and Terrell County lines. Courtesy Texas General Land Office
Texas Escapes, in its purpose to preserve historic, endangered and vanishing Texas, asks that anyone wishing to share their local history, stories, and vintage/historic photos of their town, please contact us.

Where to Stay - Pandale Area Hotels
Ozona Hotels
Custom Search
Save on Hotels - Book Here