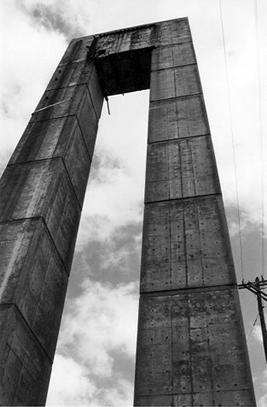 History in a Blimp Hanger
The Hitchcock Naval Air Station was a blimp base used for spotting German submarine activity during WWII. The 3,000 acre base was within the city limits of Hitchcock and construction began in 1942. The blimp hanger which held six aircraft was built for the astounding cost of $10 million. Dimensions of the hanger was 1,000 feet long by 300 feet wide and 200 feet high. Floor space was 300,000 square feet.

The base which had a complement of only 143 officers and crew - was commissioned in May of 1943. Beside the hanger were auxiliary buildings including barracks, warehouses, a mess hall, gymnasium, auditorium and an Olympic-size swimming pool which was used to teach swimming and water-rescue. The base was hit by a June hurricane that year but received minimal damage.

The German U-boat wolfpacks which mainly operated around the Florida straits reduced their presence in 1943. The construction of the Intra-Coastal Waterway and increased escorts made the kill-ratio not worth the effort. Many of the other LTA (Lighter-than-Air) stations were closed but Hitchcock became a depot for storing surplus or inactive aeronautical material.

The base was sold as war surplus in 1949 for the bargain basement price of $143,777. It was used for storing rice at one point and it was said that the entire rice crop of Texas could have been stored in the hanger. The building was then bought by John W. Mecom who leased the building during the Korean War, to remanufacture half-track vehicle and WWII tanks for use in the Korean War. Hurricane Carla damaged the building in 1961 to the point where it couldn't be repaired and it was demolished the following year.
CAMP WALLACE
The Naval base at Hitchcock started out as an antiaircraft training center in February 1941. The camp was named to honor Col. Elmer J. Wallace of the Fifty-ninth Coast Artillery, who had been killed in WWI. For two years it served as an antiaircraft replacement training center was then transferred to the United States Navy as a naval training and distribution center. After the war it became a discharge facility for Navy personnel.


Letter from W.T. Block, Nederland, Texas:

I was in anti-aircraft artillery at Camp Wallace from '42 to '43. I taught radio operating and maintenance in the schools there. I often had to take radio operators out on 2 week bivouac and for gunnery practice at the beach. We were often down at Galveston's Stewart Beach firing 40 and 90 mm (3 1/2" barrel) AA guns, and .30 and .50 cal AA machine guns. Also firing bazookas, throwing grenades, running infiltration courses under machine gun fire, etc. I had to take basic infantry training for 8 weeks twice, since the Infantry would not accept my AA training. I was transferred to 78th Infantry in Dec '43 while on Tenn 2nd Army manuevers and spent, much of '44 and all of '45 in England, France and Germany.

I also remember large pecan orchards there. During the 1950s weekly delivery trucks used to pass through my town of Nederland with the motto: "Nuts to you from the Hitchcock Pecan Company." - W.T. Block, Nederland, Texas, March 31, 2007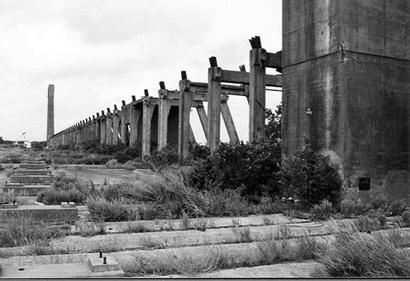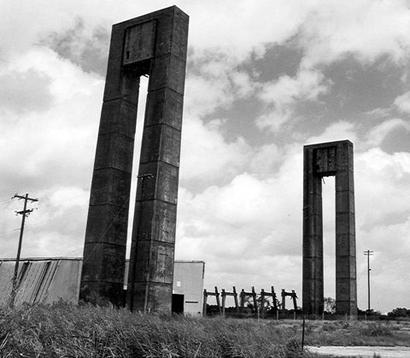 Impressions of the base ruins in September 2000

Photographer's Note:

"Outside Hitchcock are the remains of a blimp air base used in World War II when blimps patrolled the Gulf coast for German submarines. It's private property now - a coating company has a building there, but you can look around (but remembering it is private property). It's eerie walking among these huge abandoned towers. There are four towers. I don't know how tall they are but I'm guessing maybe 200 feet. And there are skeletal remains of a building that ran between two towers. The only things left are the supporting beams that stretch for nearly three hundred yards. Exactly how they used the towers I don't know. I would've loved to go inside the towers and climb up, rung by rung, to the top. Actually I would have been terrified, but more curious than terrified. Alas, when I checked each tower the door was locked. But you can look inside and see miscellaneous junk stored from the coating company, and the rungs leading up the tower. A hundred yards from the towers is a huge concrete area. I'm not sure how the air base used that area, but nowadays it is being used by a go-cart club; and today I heard carts buzzing like huge mosquitoes.

I felt like I was transported back in time. Black and white newsreels that I carry in my mind from hundreds of TV documentaries were suddenly in color and three dimensions. If this were a movie I would look up and see a jaunty young fellow walking toward me. He would look and sound snappy but vaguely out of style although I wouldn't notice it much as he eagerly shows me around and he seems to know this place like.... and just as suddenly he's gone and I would have a ghost story to tell. In real life I met up with an old boy in a ball cap and pickup truck who asked me in a slightly irritated tone what I was doing there. He's the owner of the coating company and just wants to keep tabs on folks who wander through." - William Holmes, Arlington, Texas, February 28, 2007
---
Forum

I was really intrigued with the Hitchcock Naval Air Station article by William Holmes having just recently read its Historical Marker in the 'Why Stop?' book. I dismissed the idea that it should go on the 'Must See Wish List' because the Marker stated that 'after hurricane damage in 1961 the blimp hangar was razed.' The hangar, yes. But not the massive door hangers.
Former Naval "Blimp" Hangar (now the Tillamook Air Museum) shows what the Hitchcock hangar would've looked like in its heyday.
Photo Courtesy Barclay Gibson, 2006
Anyway, I immediately knew what the structures were because similar blimps hangars were built on the Oregon coast near Tillamook in WWII, now housing the Tillamook Air Museum. In the closeup picture (above) you can see the huge concrete door hangars on the end of the hangar. I'd bet each door weighed more than a blimp did. It must be the last blimp hangar left as it is now billed as the largest wooden structure in the world. Nearby are two pillars just like the ones pictured by Mr Holmes, where four bare concrete door hangars are still standing. When you realize that these are just the door hangers, the hangar itself was truly massive. Google Earth has excellent aerial pictures of the Hitchcock pillars which show up well because of the long shadows they project in the afternoon sun.

Hitchock Naval Air Station is now on [my] 'Must See Wish List.' Thanks again. - Barclay Gibson, April 02, 2007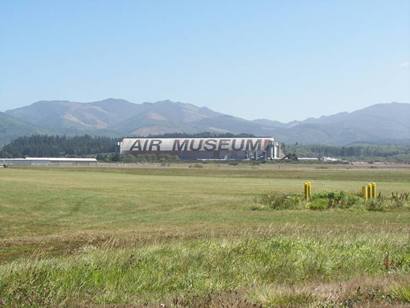 The Tillamook Air Museum from a distance showing its extraordinary length.
Photo Courtesy Barclay Gibson
---