Texas | Columns
When Samuel Clemens met U. S. Grant
or
Whoever the Twain Shall Meet
From Mark Twain's Autobiography
Editor's Note: This anecdote recalls Bill Cherry's recollection of his two meetings with Stanley Marcus and Harold Bell's reciting of James H. Farley's legendary memory. Both Farley and Marcus could recall with ease the names of people they had met years earlier – despite the insignificance of the occasion. Perhaps society would be wise to pay attention to young people with excellent memories – and remember their names for "they" are most likely to become the future's Twains and Grants.
Although several of Mark Twain's works are semi-autobiographical, his actual autobiography wasn't published until after his death. He spent the last months of his life dictating the book from his deathbed. Indeed, the reader is advised by an entry in Twin's own script: "I am writing from the grave. On these terms only can a man be approximately frank. He cannot be straightly and unqualifiedly frank either in the grave or out of it."

As an autobiography, it's most unusual in that it doesn't follow chronological order. There is hardly any of the traditional "I was born at an early age…" Twain's concept – and a good one – is that events should be recorded when they are best remembered – not put on a mental shelf (and forgotten) for the sake of chronological order.
Mark Twain "thoroughly notorious."
Mostly dictated in the morning hours of the winter of 1906, the book does contain earlier entries. The event described in the title was actually recorded in 1885.

Twain describes seeing Grant for the first time in 1866 when Grant was still General of the Army and was considered by the world to be the man who preserved the Union. But the role Twain played here was merely that of observer. Hands were shaken but no words were exchanged.
U.S. Grant in Vicksburg, site of his greatest victory. TE photo
The second meeting between the two men was in the White House when Grant was serving his first term as president. Twain was introduced by Senator Bill Stewart of Nevada, a friend of both men. By that time Twain had "acquired some trifle of notoriety" but was far from being what is now known as a "celebrity."

After this, their second handshake, there was an awkward silence. As Twain put it: "I couldn't think of anything to say. So I merely looked into the general's grim, immovable countenance a moment or two, in silence, and then I said: "Mr. President, I am embarrassed. Are you?"

Twain continued: "He smiled a smile which would have done no discredit to a cast-iron image, and I got away under the smoke of my volley."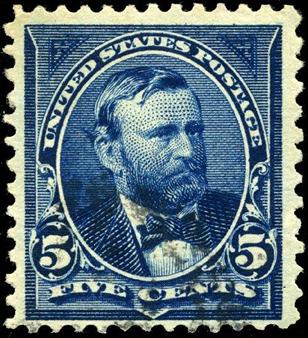 Ten years passed and Twain admits that "In the meantime I had become thoroughly notorious." Finally, in 1879 the two men were both speakers at a Chicago reunion of the Army of the Tennessee – Grant's first command of troops.

Again, both men were introduced by a mutual friend (this time it was the Mayor of Chicago). The mayor said: "General, let me introduce Mr. Clemons."

Twain recalls: "We shook hands. There was the usual momentary pause and then the general said: "I am not embarrassed. Are you?"


"15 Minutes of Separation" - September 17, 2009 Column
© John Troesser

Related Topics:
Columns | People | Texas | Texas Books | "Of Books I Sing"
Custom Search