---
---
---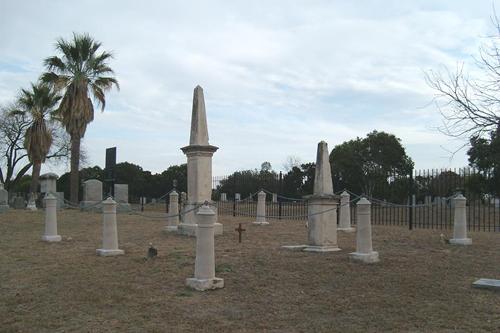 About a mile from the site of the Alamo and Pompeo Coppini's grand cenotaph, is a modest plot in one of the old San Antonio city cemeteries. Only a thick chain and a recently erected historical marker delineates the plot from nearby civilian tombstones.

There are several accounts of what happened immediately after the Alamo fell. Since victors usually write the history, Mexican historians have their take (the official but widely-believed-to-be-inflated report sent to Mexico City by Santa Anna).

Historians in the United States seem a little more concerned with what happened to the men who were taken prisoner that morning, or indeed, if there were any prisoners.

All accounts say that the bodies were burned and the site of Coppini's cenotaph is a logical place for the pyre to have been.

In Lone Star, historian T.R. Fehrenbach stated: "The charred remains of the Alamo dead were dumped in a common grave. Its location went unrecorded and was never found."

The story of this tiny 10 X 10 plot, surely the least-frequented site in the whole Alamo epic, is best told by the text on the historical marker:
Lost Burial place of the Alamo Defenders marker
Photo courtesy Sarah Reveley , 2007
Captain R.A. Gillespe monument
Photo courtesy Sarah Reveley , 2007
Captain Samuel H. Walker monument
Photo courtesy Sarah Reveley , 2007
---
Texas Escapes, in its purpose to preserve historic, endangered and vanishing Texas, asks that anyone wishing to share their local history, stories, and vintage/historic photos, please contact us.