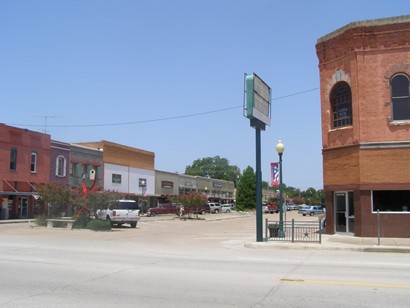 History in a Pecan Shell
A timeline of significant events in Clifton's history:

1852-53: Clifton is founded and is originally named Cliff Town after local limestone bluffs.
1859: The post office is granted.
1866: A flour mill is built that is replaced in 1868
1870: A three-story school known as Rock School is built.
1880: The Gulf, Colorado and Santa Fe Railway comes one mile south of town.
1890- 1892: Clifton serves as the Bosque County seat.
1893: New school is built.
1895: The Clifton Record, the town's first newspaper is published.
1896: Clifton Lutheran College, later known as Clifton College, opens.
1901: Clifton is incorporated
1904: The population reaches 204
1906: A large fire destroys much of Clifton's business district.
1907: The Clifton Volunteer Fire Department is organized.
Photographer's Note:
A fun little town to explore. Good bridge to photograph. The Cliftex Theatre looks to have been restored since the pic you have was taken. Found one side street in town that still had rings to tie your horse up to. As you can tell we had lot's of fun walking these towns on our 4 day trip. - William Beauchamp
---
Clifton, Texas Landmarks / Attractions
Photo Gallery
Bosque Memorial Museum: 301 South Avenue Q


Bosque County Conservatory of Fine Arts: The former main building of Clifton College
Clifton, Texas Nearby Destinations

Clifton Tourtist Information
Clifton Chamber of Commerce: 115 N Avenue D
254-675-3720
Website: www.clifton.centraltx.com
---
Texas Escapes, in its purpose to preserve historic, endangered and vanishing Texas, asks that anyone wishing to share their local history and vintage/historic photos, please contact us.