Kingston scene
Photo courtesy Mike Price, September 2009
Kingston History in a Pecan Shell
In 1880 when the Katy Railroad was building from Denison to Greenville, Kingston was given a depot. A former Confederate named Nick Hodges donated the land for the railroad right-of-way named the place Kingston, after Kingston, Georgia where he and his fellow combatants surrendered at the end of the Civil War.

A post office was granted in 1880 and the town due to its railroad connection - drew off populations from smaller towns. Calhoun College breifly operated in Kingston - from 1885 to 1897.

The Gulf, Colorado and Santa Fe Railway was building through Hunt County in 1886 and asked Kingston citizens for a bonus to route the rails through their town. Since they had a railroad connection already, they refused and the railroad moved three miles north - buying up land and establishing the town of Celeste.

As in many of these cases, Kingston lost businesses to Celeste, and the population declined accordingly.


From a population of 600 in 1890, it declined to half that figure by 1914. The post office closed its doors sometime during the Great Depression and yet the town managed to maintain its separate identity - keeping a population of 150 in 1947 which has stayed more or less at that figure to the present.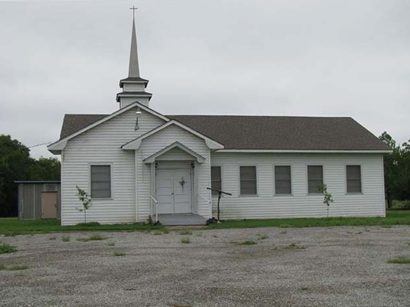 Kingston United Methodist Church
Photo courtesy Mike Price, September 2009
Kingston Baptist Church
Photo courtesy Mike Price, September 2009
Kingston Baptist Church historical marker Text
Founded in 1880 by 26 charter members, this church was formed when the town of Kingston was created on the route of the Missouri-Kansas-Texas Railroad. When the Gulf, Colorado, & Santa Fe Railroad built another line three miles north of here in 1886, growth in Kingston was halted. Many businesses moved to Celeste, the town formed at the new crossing. The church remained in Kingston, and built a second sanctuary in 1947. A new building was constructed in one week in 1985 by volunteers from Kingston area churches and East Mountain Baptist Church.