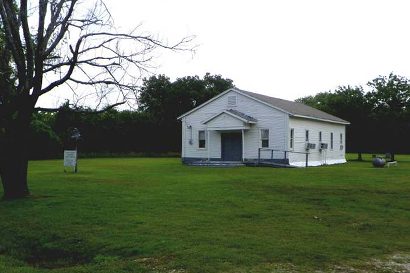 History in a Pecan Shell
Springfield came into being in 1838 with the donation of land by Moses Herrin. Twelve families formed the core population in that year and in 1847 it became the first county seat of the newly-formed Limestone County.

The community incorporated in 1848 and had a post office to serving a population of 120. Prior to the Civil War, the community was thriving with five stores as well as its own newspaper and two hotels.

The community was excited at the prospects of getting a railroad connection in the 1870s, but they rejected the railroad's price for a right-of-way. Springfield's status as county seat didn't impress the railroad and as in most cases of this sort, the railroad went elsewhere.

Groesbeck and Mexia benefitted by their railroad connection, but Springfield still had the courthouse. That changed in 1873 when the courthouse burned and Groesbeck became the county seat.

The population moved to the more prosperous towns and Springfield was on its way to becoming a ghost. By 1878 the post office closed and it started disappearing from maps. Only the cemetery was left by the 1930s when it became part of the Fort Parker State Park.

It's status as the first county seat is mentioned in two historical markers in the area erected in the 1960s.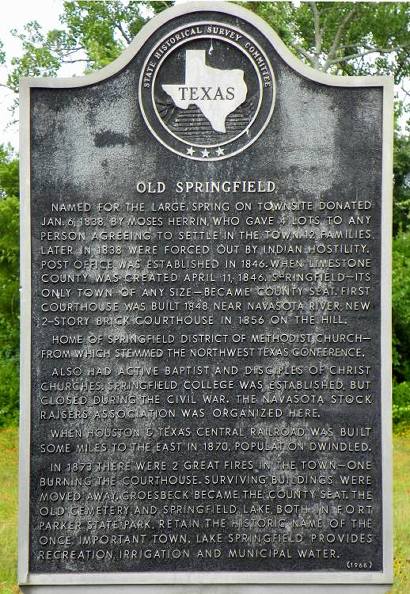 Historical Marker Text
Old Springfield
Named for the large spring on townsite donated Jan. 6, 1838, by Moses Herrin, who gave 4 lots to any person agreeing to settle in the town. 12 families later in 1838 were forced out by Indian hostility. Post office was established in 1846. When Limestone County was created April 11, 1846, Springfield-- its only town of any size-- became county seat. First courthouse was built 1848 near Navasota River; new 2-story brick courthouse in 1856 on the hill.

Home of Springfield District of Methodist Church from which stemmed the Northwest Texas Conference.

Also had active Baptist and Disciples of Christ churches. Springfield College was established, but closed during the Civil War. The Navasota Stock Raisers Association was organized here.

When Houston & Texas Central Railroad was built some miles to the East in 1870, population dwindled.

In 1873 there were 2 great fires in the town-- one burning the courthouse. Surviving buildings were moved away. Groesbeck became the county seat. The old cemetery and Springfield Lake, both in Fort Parker State Park, retain the historic name of the once important town. Lake Springfield provides recreation, irrigation and municipal water.
1966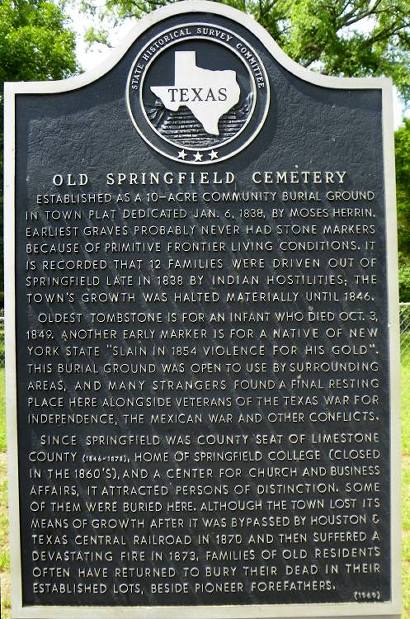 Historical Marker Text
Old Springfield Cemetery
Established as a 10-acre community burial ground in town plat dedicated Jan. 6, 1838, by Moses Herrin. Earliest graves probably never had stone markers because of primitive frontier living conditions. It is recorded that 12 families were driven out of Springfield late in 1838 by Indian hostilities; the town's growth was halted materially until 1846.

Oldest tombstone is for an infant who died Oct. 3, 1849. Another early marker is for a native of New York State "Slain in 1854 violence for his gold". This burial ground was open to use by surrounding areas, and many strangers found a final resting place here alongside veterans of the Texas War for Independence, the Mexican War and other conflicts.

Since Springfield was county seat of Limestone County (1846-1878), home of Springfield College (closed in the 1860's) and a center for church and business affairs, it attracted persons of distinction. Some of them were buried here. Although the town lost its means of growth after it was bypassed by Houston & Texas Central Railroad in 1870 and then suffered a devastating fire in 1873, families of old residents often have returned to bury their dead in their established lots, beside pioneer forefathers.
1969
Photographer's Note:
"New Springfield is just outside the Ft Parker entrance." - Barclay Gibson
Fort Parker Memorial Park & Cemetery
TE Photo 2007
Fort Parker Memorial Park historical marker
TE photo, 2007
Fort Parker Memorial Statues
TE photo, 2007
Custom Search