History in Pecan Shell
Settled sometime before 1850, Birch has been a farming community since its founding. Although it most certainly dates to the 1830s, the first official mention is in Burleson County records from 1846 - a year after Texas statehood.

The great Czech migration in the mid-1880s reached Caldwell and Czech immigrants spread out, buying local farmland from original Anglo settlers and also German immigrants who had preceded them. Birch received its post office in 1891 although it closed in 1908.

Before its consolidation with the Sommerville School District, Birch had its own school. Nothing disastrous occurred in Birch and the denizens lived happily. When WWII broke out, the population was around 25 residents and remained at that level through 1948 when post-war employment lured millions to bigger cities. Birch was no longer counting residents by the early 1960s, the former community was nothing but a small group of residences.
---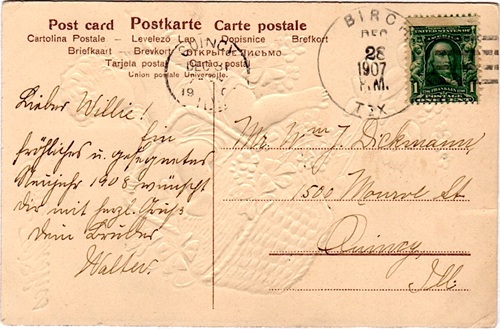 1907 postal map showing Birch in SW Burleson County
From Texas state map #2090
Courtesy Texas General Land Office
Texas Escapes, in its purpose to preserve historic, endangered and vanishing Texas, asks that anyone wishing to share their local history, stories, landmarks and recent or vintage photos, please contact us.