History in a Pecan Shell

Jeddo was granted a post office the year it was founded (1874). By 1890 there was one store for the 20 residents and in 1892 two schools reported a combined enrollement of 59 pupils. A mysterious population spike occured when 560 residents were reported in 1896. It may have been explained as an error except it reoccured in 1904 when 559 residents were reported. By 1914 it returned to a more likely figure of 12. No record was kept until around 1933, when ten Jeddoans were present for a headcount.

In 1919 a new school building was built and by 1930 there were thirty students with two instructors. Jeddo's post office closed in 1927. The favored figure for the years 1939 to 1990 was a population of 75.

Jeddo Cemetery
Rev. Benjamin F. Fry 1936 Texas Centennial Marker
St. Phillips Community
Lost Graves of Jeddo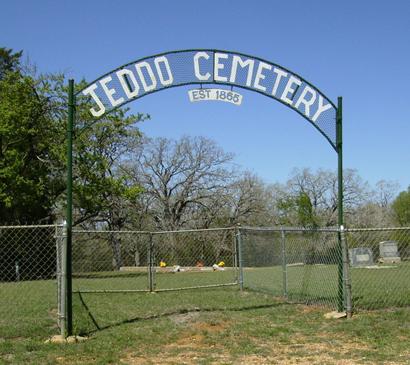 Jeddo Cemetery

The well-maintained cemetery just north of the main intersection contains the graves of several notable figures - including a veteran of the War of 1812, and Reverend Benjamin F. Fry, who earned a 1936 Centennial grave marker for his participation in the Texas Revolution and the Mexican War.
Rev. Benjamin F. Fry Centennial Marker
Photo courtesy Sarah Reveley, 2009
Centennial Marker Text

Rev. Benjamin F. Fry
Participated in the siege of Bexar, 1835
The Battle of San Jacinto, 1836
The Mexican War, 1846
Born in Georgia
September 15, 1800
Died in Texas October 3, 1872
His wife
Nancer Carter Fry
Born in Georgia
Died in 1867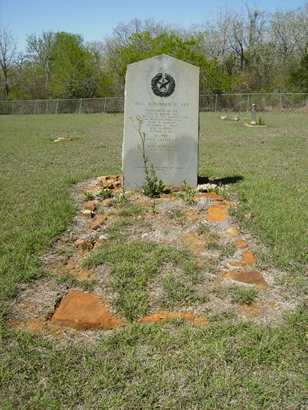 African American community (St. Phillips Community)
There is a large African American community (St. Phillips Community) that is part of Jeddo. That is probably the reason for the large numbers that seem strange. This community was counted. Orginially St. Phillips Colony, the colored community was "The Colony" to the whites in Jeddo. The school and churches were segregated but the whites and blacks lived as neighbors on the same economic level. They were all farmers. There were actual strong friendships between some of the whites and blacks.

There are African Americans buried in the Jeddo Community.

Major Marshall Henry Short ( a white man) who fought in the Texas Revolution, Mexican War and the Civil War is buried in an unmarked grave in the Jeddo Cemetery. - Velma Fogle, December 15, 2004