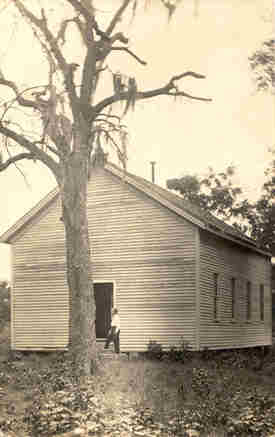 History in a Pecan Shell
Named after abundant Bois d'Arc trees (aka Osage Orange), this land had originally been granted to Henry Austin, a cousin of Stephen F. Austin. First settlers were reportedly a family named Hubbard from Mississippi who arrived in the early 1850s. The Hubbards wrote home to Laurel, Mississippi and in 1855 a train of 36 wagons arrived. It hadn't occurred to anyone to name the place until the first crops were harvested and people had settled in. Dr. Samuel D. McLeary is credited with naming the town.

When the Civil War broke out, Osage and other communities mustered men and horses to form Company A, Fifth Texas Cavalry, CSA. A Confederate post office was opened in 1862. A school was opened by one E. B. Carruth in 1874 and although it was somewhat isolated, the curriculum included higher mathematics and Latin as well as history, geography, and rhetoric. It is said that families from a 100-mile radius sent their children to Osage to board with local families while they attended classes.

The Galveston, Harrisburg and San Antonio Railroad arrived in 1873, but missed Osage by some four miles. As result, Weimar came into being and residents and businesses of Osage moved to have the connection with the outside world. All of Osage's businesses were gone by 1900 and today there is no trace of a distinct town center - only scattered homes of retirees and small ranching operations.
Confederate soldier's grave in Osage Cemetery
TE Photo, 2002
---
Texas Escapes, in its purpose to preserve historic, endangered and vanishing Texas, asks that anyone wishing to share their local history, stories, landmarks and vintage/historic photos, please contact us.