Pine Springs Cemetery Path
TE photo, January 2010
History in a Pecan Shell
A town without much of chance, Oso preceded the railroad and once the railroad arrived the town was bypassed in favor of Flatonia. Like many communities in Fayette County, the original Anglo land grantees were eager to sell to immigrants, thinking they'd be able to by more acreage "out west."

No one is sure of how it acquired a Spanish name (Oso is Spanish for Bear), but the fledgling town managed to squeak by – producing small crops of cotton and cutting firewood for the railroad. Even if it had not been bypassed, the closeness to Flatonia would've made growth unlikely, if not impossible.

Nevertheless, Oso once had three stores and a post office (in operation from 1858 to 1874. See postmark). The railroad was the Galveston, Harrisburg and San Antonio Railway and after its arrival, Oso's residents and businesses moved to Flatonia.

Only the Pine Springs Cemetery and school were left to mark the town.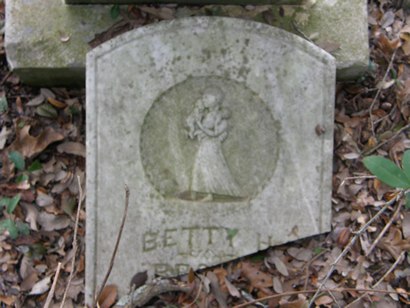 On one stone a young mother cradles her two children in her arms.
TE photo, January 2010
The Pine Springs Cemetery
Directions: Just N of I-10 and off of FM 906 on Pine Springs Road.

The cemetery of Pine Springs served the community of Oso. It appears to have been well cared-for at one time. A row of cedars lines the path and two small stone bridges were built over wet weather streams. A lych gate is barely standing due to rot. Visitation is made difficult by a thick undergrowth of privet.

Most tombstones are broken and there is evidence that the area is "in use" as a rendezvous for teenagers. The tombstones vary in craftsmanship – from simple uncut slabs of river rock to hand-carved stones reminiscent of New England graveyards.

A few mollusk shells were present but no graves were found to be totally encrusted with them – a common tradition in 19th and early 20th century Texas cemeteries.

The oldest graves date to the late 1860s and the most famous person to have been buried here was William Menefee, a signer of the Texas Declaration of Independence. In 1936 the graves of Menefee and his wife were exhumed and re-interred in the State Cemetery at Austin.



UPDATE
Subject: Oso Texas Graveyard
I enjoyed your listing for Oso Texas and went out to visit myself. I got some additional photos of the graveyard which may be of interest.

You may want to update the listing to incorporate the info that this graveyard is a known hangout for rowdy teens and as such law enforcement keep an eye on visitors. - Brian Milliron, October 20, 2010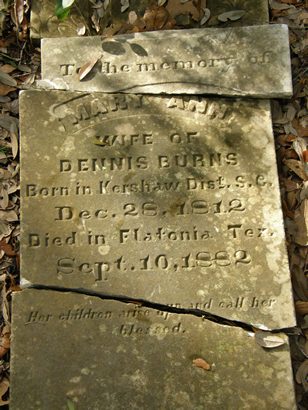 A Broken Tombstone
TE photo, January 2010
Another broken tombstone.
TE photo, January 2010
Yet another.
TE photo, January 2010
"....reminiscent of New England tombstones."
TE photo, January 2010
Another inscription.
TE photo, January 2010
Photo courtesy Brian Milliron, August 2010
Photo courtesy Brian Milliron, August 2010
Pine Springs Cemetery Bridge
TE photo, January 2010
More Texas Bridges
Near Oso / Pine Springs
TE photo, January 2010
Bull and cow near Oso / Pine Springs.
TE photo, January 2010
See Texas Animals
Fayette County map showing Oso
Modification of Texas General Land Office 1920s map
Texas Escapes, in its purpose to preserve historic, endangered and vanishing Texas, asks that anyone wishing to share their local history, stories, landmarks and recent or vintage photos, please contact us.