The railroad still passes through Red Rock. TE photo, 2002
See Texas Railroads
History in a Pecan Shell

In the 1850s when the people of Red Rock needed to name their community, they looked around for inspiration. They may have been short of friends or neighbors they considered worthy - since (so the story goes) they chose the red rock chimney of their first settler's house. James Brewer owned the chimney - but evidently they didn't like Brewerville or Brewerton. It's possible they all owed Jim Brewer money.

Prior to choosing Red Rock the village had also been called Hannah Land. A post office was granted in 1870 and the Red Rock Male and Female Academy opened its doors later that decade.

In 1884 the population was 150 and the town had both a gristmill and cotton gin. When the Missouri, Kansas and Texas Railroad arrived within a mile of the town. People moved to the tracks and within a few years the population had increased to 200.

By 1909 the town was a healthy population of 500. This was to become their high-water mark. The yearly output of the Red Rock gin was 2,500 bales of cotton but this boom was followed by a decline to 350 people by 1914.

Even when oil was discovered in the 30s - the town experienced no growth. By 1940 the population was below the 1884 figure of 150. It rose to 250 through the fifties and sixties - but it has returned back to 100 residents.
Red Rock Today: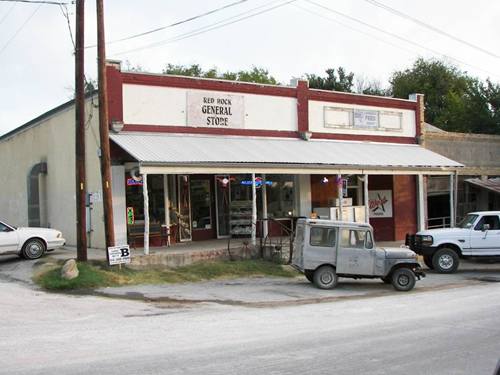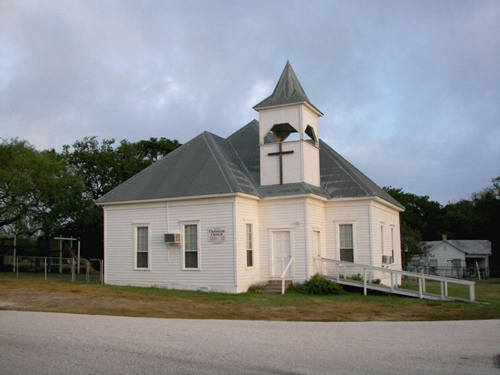 Book Your Hotel Here & Save
Bastrop Hotels
The Naming of Red Rock, Texas
Howdy! I was raised in Red Rock Texas. Just this weekend I was reminiscing about the old folks' stories about the town. I spent about three hours a day for years with the town elders downtown while I waited for my parents to pick me up after the school bus dropped me off. I got an ear full of old stories. I was wondering if anyone else had old stories to swap, such as what was the year of the fire that wiped out the town? I remember stories about the movie theatre and the sandhills.

I think that the stories of the naming of the town that I have found on the internet are goofy at best. It is obvious if you have been out and about in the area that there is a very high iron content to the rocks and soil. When we were kids and we would play and get muddy and dirty it was always a red dust film and we would get in trouble because the red mud (in which we were invariably covered) was red. The red pigment from the mud would stain our clothes as well as our skin and we probably looked like wild Indians. Our parents cars had that unmistakable red film of dust, distinctive to our little niche, covering their cars from driving down those old red dirt roads made from local clay- slicker than snot when wet, everyone kept a tow rope in the trunk. There is even a cutout in the road out in the sandhills of red rock of which the sides of the walls which you drive through are deep orange red. Hmm... - Cristina Niemann, March 7, 2006

Book Your Hotel Here & Save
Bastrop Hotels