THOMASTON, TEXAS
DeWitt County, Central Texas South
Highway 87
One Mile NE of the Victoria County Line
About 11 Miles SE of Cuero
17 Miles NW of Victoria
Population: 00045 (2000)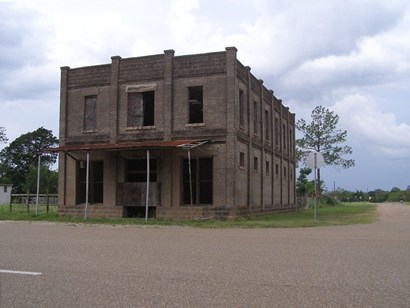 History in a Pecan Shell

Named after Nathan Thomas, a donor of land for the townsite, the community became DeWitt County's first town to receive a railroad connection when the the Gulf, Western Texas and Pacific Railroad arrived in 1872.

A post office was granted the following year by storeowner (and stationmaster) James Pridgen. By the mid 1880s, the town had somewhere around 100 residents. Cattle pens nearby made the town an important cattle shipping spot for local ranchers into the 1940s. By 1892 Thomaston reported 300 people and the town enjoyed the amenities of a newspaper and dentist, besides the usual array of essential business.

Thomaston residents benefited from their railroad connection and had the choice of traveling to Cuero or Victoria with equal ease on one of the four trains that passed daily. In the 1920s the town had declined to less than a hundred residents and after WWII improved roads and school consolidations (with Cuero) sent Thomaston into an even deeper decline. The railroad connection ended in 1950 when passenger service was suspended. The 1985 count showed about 45 people receiving mail at the Thomston post office, the estimate has been used since.


A Visit to Thomaston, Texas: