VICTORIA, TEXAS

Victoria County Seat, Texas Gulf Coast

28° 49' 1" N, 96° 59' 36" W (28.816944, -96.993333)

Highways 59, 77 and 87
28 miles SW of Cuero
80 miles SW of Houston
116 miles SE of San Antonio
25 miles NE of Port Lavaca
83 miles N of Corpus Christi
ZIP codes: 77901, 77902, 77903, 77904, 77905
Area code: 361
Population: 65,534 (2020)
62,592 (2010) 60,603 (2000) 55,076 (1990)

Book Hotel Here › Victoria Hotels
The 1849 Victoria County Courthouse
Photo courtesy Victoria County Archives
History in a Pecan Shell

La Salle built his Fort St. Louis at the southern tip of present day Victoria County in 1685. Victoria County is the only county in Texas where all six flags flew. The Spanish burned the fort in 1690 and thirty years later built the Presidio La Bahia atop the site. The presidio and its accompanying Mission Espiritu Santo de Zuniga were moved northwest on the banks of the Guadalupe River in 1723. In 1726 the Mission and Presidio moved 8 miles further up the river where they remained until moving to La Bahia (Goliad) in 1749.

Victoria was founded in 1824 on a ford of the Guadalupe River. A historic marker on Hwy 59 at the river marks the probable location.

Martin de Leon received a Mexican land grant in 1824 to bring 41 families to a place on the Guadalupe River known as Cypress Grove and started the town. His son-in-law Placido Benavides led the Victoria Militia during the Texas Revolution.
The Civil War:

Victoria was on one branch of the "Cotton Road" which went from Alleyton (Colorado County) to Brownsville. The road was a major lifeline for the South - trading cotton for arms and medicine through neutral Mexico. The town was threatened with a Union invasion in 1863 and so the railroad from Port Lavaca was destroyed. Camp Henry E. McCulloch trained Infantry and Cavalry companies for Confederate service.
Victoria, Texas
Landmarks / Attractions
The recently restored 1892 Victoria County Courthouse.
TE Photo
Downtown Victoria
TE Photo, 2001
The 1895 O'Connor-Proctor Building
TE Photo
Downtown Victoria lends itself to exploration on weekends since traffic is drawn off by a commercial strip of businesses on highway 77 North. Highways 87, 59, and 77 cross in Victoria.

The O'Connor-Proctor Building sits on the corner NE of DeLeon Plaza. The bandstand (circa 1875 rebuilt 1895) in the plaza was placed atop the old standpipe's foundation in 1922. The foundation is from the city's old standpipe water reservoir.

Just East of Victoria's downtown is Memorial Square, Victoria's first public burial ground. A commemorative inscribed stone and and original gatepost from the Welder Mansion were placed here years ago. The John J. Welder Mansion (1895-1897) was located in the 700 Block of North Main.
J. F. Welder Building
TE Photo, 2001
A downtown building "1910" date plate
TE Photo
More Pitted Dates
St. Mary's Catholic Church
100 W. Church St., Victoria
Recorded Texas Historic Landmark - 1964.
Photo courtesy Barclay Gibson, Ausust 2003
More Texas Churches
The Old Federal Building - 1912
TE Photo, 2001
Victoria, Texas Old Photos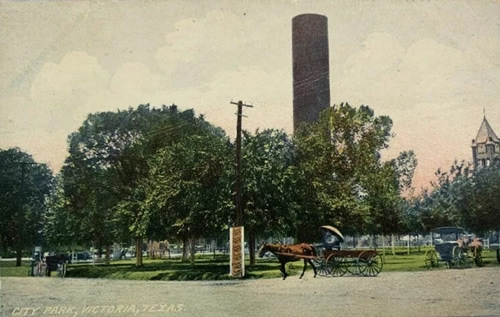 Historical Marker: 100 N. Main St., Victoria
De Leon Plaza
Originally called "Plaza De la Constitucion" by Martin De Leon, the founder of Victoria, this square was included as part of an early 1830s survey of Victoria by Jose M. Carbajal, son-in-law of De Leon. Carbajal's survey expanded on the founder's basic design for the city, which followed the style of traditional Spanish municipalities. A water well lined with brick was placed in the center of the square in 1850. By 1872 a windmill stood over the well; twelve years later it was replaced by a standpipe. Other improvements included a bandstand in the 1870s, hitching racks in 1897; a Confederate memorial status, "Last Stand" by Pompeo Coppini, dedicated in 1912; and lamp standards in 1923. In that year the standpipe was removed and the bandstand was relocated to the center of the plaza. Sidewalks were added by the Public Works Administration in the 1930s. Through the efforts of the United Daughters of the Confederacy, the site was renamed De Leon Plaza as part of a plaza beautification project in 1941. As a gathering place, summer concert arena, exposition site, and town center, De Leon Plaza continues to serve the people of Victoria as it has for generations. The plaza stands as a reminder of the rich heritage of the city and its founder.
(1998)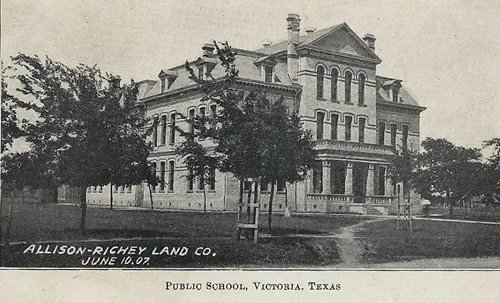 1936 Texas Centennial Marker: S. US 59 at Guadalupe River, Victoria
Guadalupe River
Discovered in this vicinity on April 14, 1689 by Alonso de Leon. Named in honor of "Our Lady of Guadalupe" patron saint of Mexico. Here at a ford, used since Indian days, empresario Martin de Leon founded the town of Victoria in 1824.

[See Guadalupe River]
Steamboat. "Moonlight scene on the Guadalupe. A home run for Victoria, Head of Navigation." Postmarked 1909
Click on image to enlarge
Old Photo courtesy Dan Whatley Collection
Sites of Historical Interest
Evergreen Cemetery: 1800 North Vine Street
Established in the 1850s - some of the graves were moved here after being exhumed from Memorial Square in downtown. Martin de Leon died in 1833 of Cholera and his gravesite is not known. Other de Leon family members are interred here.


McNamara Historical Museum: 502 N. Liberty Street


Victoria Public Library: 302 N. Main Street
Cemetery Angel, Evergreen Cemetery, Victoria
TE Photo, May 2002
Historical Marker: N. Vine St., Victoria
Evergreen Cemetery of Victoria
The first community cemetery in Victoria, located at present day Memorial Square, was unpopular with local citizens. They preferred home burial despite an 1846 city ordinance prohobiting the practice. In 1849 John McCrabb bought 27 acres of a tract granted to the city by the Republic of Texas. The property already contained the gravesite of Dr. Walter Fosgate, who died in 1848. During the 1850s, part of McCrabb's land became the new public cemetery. Following the Civil War (1861-65), many graves were moved here from the original city cemetery. Other reinterments occurred when old St. Mary's Catholic Church was razed in 1868.

Because of city neglect, local women organized the Victoria Ladies' Cemetery Association in 1876 and took over care of the plot. The name "Evergreen Cemetery" was chosen in 1883 because of abundant trees in the area. The Evergreen Cemetery Endowment Association was established in 1912 to manage investment of maintenance funds. Over the years, further land acquistion has enlarged the site to 30 acres. Among the 9,000 graves here are those of Martin de Leon (1765-1833), early empresario and founder of Victoria; and veterans of the Texas Revolution, Mexican War, and Civil War.
(1976)
---
Historic Buildings from Indianola
The Dominick H. Regan house, 507 S. De Leon, Victoria
Photo courtesy Gary Dunnam, Victoria Preservation, Inc.
Indianola Remnants by Mike Cox


Indianola, once the "Queen City of the West," recovered from a killer hurricane in 1875 but it did not survive a second devastating storm in 1886.

Modern day visitors find few remnants of the once prosperous Calhoun County seaport, but they're looking in the wrong place. If you want to see some of Indianola's stately Victorian houses, just go to Victoria or Cuero...

According to Dunnam [Gary Dunnam, director of Victoria Preservation, Inc.], the Indianola remnants in Victoria include:


The Beaumont-Steele house at 501 N. De Leon


The Crain-Fox house, a two-story white frame house with red and blue trim at 1601 N. Bridge St.


A two-story house at 404 E. Goodwin was formerly owned by the A.M. McFaddin estate.


The Dominick H. Regan house, a detailed Italianate structure at 507 S. De Leon


The Huck-Welder house at 307 E. Convent


more
---
Historical Marker: 900 E. Santa Rosa, Victoria
Southern Pacific Railroad Depot, Site of
The coming of the railroad to Victoria was an important part of the town's economic and social history. Although the first line reached Victoria by 1860, the railroad's major impact came after the end of the Civil War. In 1882, the proposed New York, Texas & Mexican Railroad completed a stretch of track from Rosenberg to Victoria and established its line headquarters here. Three years later it was sold to the Southern Pacific Railroad Company. Southern Pacific built a depot at this site in 1888-89 to serve arriving and departing passengers and to house its headquarters. Later, Victoria served as division headquarters for the Galveston, Harrisburg & San Antonio Railroad.

The two-story depot had a baggage room, waiting rooms, and ticket offices on its first floor, with the divisions' general offices and the dispatcher housed on the second floor. It often served as a gathering place for community social functions.

The last passenger train left Victoria in 1953, but the depot remained in use for various purposes until 1979. Although the depot burned in 1984, its history is a reminder of the railroad's importance as a vital part of the economic and physical growth of Victoria.
(1986) Texas Sesquisentennial 1836-1986
---
Drives and Nearby Destinations
---
Victoria, Texas Forum
Subject: Victoria, Texas, sounds like a nice place to live
I recently received a letter from a woman who lives in Victoria, Texas. She wanted to buy some geology and earth science supplies to donate to students and teachers at Vickers Elementary School science lab. And she referred to herself as an "old granny rockhound." Now this is not the first time we have had someone buy earth science supplies to donate to a school. And I am not even going to suggest the expected, such as, "isn't it a sad day in America when schools don't have the supplies they need to teach?" Indeed, sometimes maybe it is a good thing that we don't always have everything we need. Because we have to stop and think a little about what is important and then we have to figure out how to get it. Or it allows us to run into nice people like Evelyn Willmon who will dig deep not so much into their own pockets (although that is a part of it, too), as they will dig into their hearts and give a piece of themselves to their community.

I cannot share Evelyn's correspondence here. But her few words touched me enough to look up Victoria, Texas, on the internet and see if it was anywhere near Austin where I graduated from the the great University of Texas and even worked for the great State of Texas for awhile. Not too near. But it looks like a beautiful city. A city with history.

It truly is the many, many individuals like Evelyn who give of themselves in this way, without fanfare, and without benefit of an organized charity or volunteer group, that make the difference in not just our country, but in our world. (That is not meant as a slight on organized philanthropic organizations who indeed also help to contribute to the civil and public spheres.) But the generosity of heart that Evelyn represents is the reason I was inspired to write.

I hope you read this, Evelyn. And hello to all the students at Vickers Elementary. We are sending some extra crystallized specimens from a gold mine in Nevada, courtesy of Barrick Gold Corporation who allows us to recover them for teachers and students like you. Have fun with your rocks! Best regards - Jane Jones, Geoprime Minerals, www.geoprime.com Hesperia, California, August 19, 2004


Richmond-Rosenberg and Victoria, Texas
While surfing the net gathering info for a newspaper article I'm writing, I happened upon your website. Though I located one of the cities my chamber represents, Richmond, on your site, I noticed that Rosenberg is not described. Can you let me know what do you need in order to incorporate an additional community? What sort of photos are you interested in?

I also enjoyed the photos of Victoria -- My children (now grown) are 6th generation Victorians, and we have only lived in the Houston area/Fort Bend County for 3 years, so I'll always think of Victoria as "home". My near-80 year old mother still lives there, so thankfully it's a quick drive! - Gail Parker, President/CEO Rosenberg-Richmond Area Chamber of Commerce, June 14 2004


We thank Mr. Gary Dunnam, Executive Director Victoria Preservation Inc. for corrections and additional information which have been included into the Victoria page.
" .... We are so happy to be included in Texas Escapes. Victoria is a great old town with many beautiful homes and buildings. There is a self guided driving tour of the historic district which begins at De Leon Plaza. Driving Tour booklets are available at the chamber of commerce. Group tours are available through Victoria Preservation Inc., a local non-profit organization. Thanks!" - Gary Dunnam, Executive Director Victoria Preservation Inc., October 17, 2003
---
Texas Escapes, in its purpose to preserve historic, endangered and vanishing Texas, asks that anyone wishing to share their local history, stories, landmarks and recent or vintage photos, please contact us.