American Party Band and Waldeck Hall
Courtesy Fayette Co Hist Comm; submitted by Carolyn Heinsohn FCHC member
History in a Pecan Shell
Count Ludwig Joseph von Boos-Waldeck is the community's namesake. The count was head of a German Immigration Society when that organization bought the site in 1843. First known as Long Prairie, Texas, a post office was opened under that name in 1860.

The Long Prairie German Company (Infantry) was mustered in at the start of the Civil War. This was ironic since most German immigration was undertaken to avoid conscription in Europe.

Long Prairie's post office closed in 1876 but reopened under the name Waldeck in 1881. It stayed open until its permanent closure in 1925.

In 1900 Waldeck was peaking. Besides the post office, the community was a voting precinct and had a saloon, store, blacksmith and cotton gin.

Corn and cotton were principle crops although the soil was considered poor and the area was prone to flooding. By 1950 Waldeck had just two businesses to serve a population of 60.

Children who had once attended the Waldeck school were sent to the consolidated Round Top – Carmine schools. By the 1980s, Waldeck had an estimated population of 35 people living in dispersed households.

The same population was used for the 2000 census.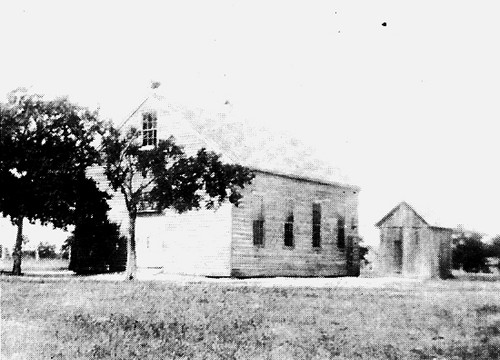 Albers Saloon, 1907
Courtesy Fayette Co Hist Comm; submitted by Carolyn Heinsohn FCHC member
Waldeck Evangelical Lutheran Church
Photo courtesy Gerald Massey, July 2011
Waldeck Cemetery
This cemetery has served the Waldeck community of German immigrants for over 100 years. Originally known as Long Prairie, the community met in 1866 to erect a school/church building and to establish a cemetery. Louis Tittel deeded six acres of land which became the cemetery. There were existing graves in the north corner, though the earliest marked grave is dated 1871. Burials include many German immigrants, and veterans of wars from the Civil War to the Vietnam War. This cemetery contains more than 530 graves, and continues to serve the Waldeck community.
1994
Fayette County map showing location of Long Prairie (Waldeck)
Modification of Texas General Land Office 1920s map
Fayette County 1907 postal map showing Waldeck (NE corner)
Courtesy Texas General Land Office
Texas Escapes, in its purpose to preserve historic, endangered and vanishing Texas, asks that anyone wishing to share their local history and vintage/historic photos, please contact us.
Custom Search