---
---
Ghost Counties of Texas
Remembered today only by yellowed state records,
brittle maps, and faded postmarks

An incomplete list illustrated by maps courtesy of
the Texas General Land Office.
As if 254 counties wasn't enough, Texas had 32 others at one time or another. They were either planned and cancelled by the Texas Legislature, forfeited their territory to neighboring states (see "Texas Territorial Compromise of 1850") or simply underwent a change of name.

A partial list of these "ghost counties" includes the following:
Texas Ghost Counties: Buchel and Foley, T & P map
Courtesy of the Texas General Land Office
Buchel and Foley Counties
Buchel and Foley County were both formed in March of 1887 from Presidio County. They were born together and both were annexed to Brewster County in 1897. A bill was passed to dissolve the counties, but Governor Charles Culberson never signed the papers. Nevertheless, the bill passed without the governor's signature and the two counties were absorbed by Brewster County; making it the largest county in Texas. Marathon, Texas was to have been the county seat for Buchel County.

The namesake of the proposed Buchel County was Augustus Carl Buchel – a soldier's soldier. Born in Hesse, Buchel served in the French Foreign Legion and later as a Colonel in the Turkish Army. He came to Texas via Indianola and during the Mexican War served on Taylor's staff. In the Civil War he was a Lt. Col. Of Texas Infantry and later served as a full Colonel in command of the 1st Texas Cavalry. He was killed at the battle of Pleasant Hill, Louisiana in 1864 and his body was later interred at the Texas State Cemetery in Austin.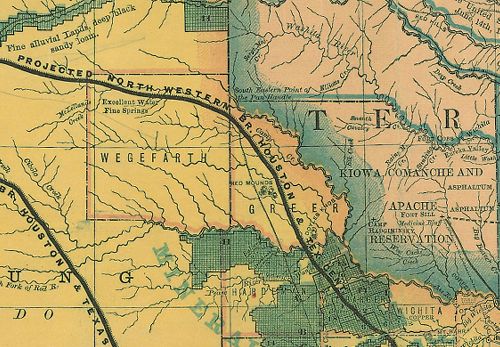 Texas Ghost Counties: Wegefarth and Greer - 1876 RR Map
Courtesy of the Texas General Land Office
Wegefarth County
Wegefarth County, which came into being on June 2, 1873 only lasted a brief three years. It was erased from state maps in August of 1876 when the huge lands of Bexar County were broken into the familiar square counties of the upper Panhandle. The unfamiliar surname comes from the president of the Texas Immigrant Aid and Supply Company – a man known as C. Wegefarth.
Greer County
Greer County, Texas has since become Greer County, Oklahoma. If left on the state map, this county would've distorted the now-familiar silhouette of Texas. Formed just prior to the Civil War, it remained on maps until the U.S. Supreme Court made the separation official in an 1896 ruling.
Greer County, Texas historical marker
In Shamrock, IH 40, one mile west of Oklahoma state line
Photo courtesy Rick Vanderpool, 2010
Historical Marker Text

Greer County, Texas

Created 1860; until 1896, one of largest counties in Texas. Organized at Old Mobeetie, northwest of here. In 1880s settlement was rapid; by 1892 nearly 2,500 pupils were in county's schools. A post office, jail and many houses were built, and over 60,000 cattle grazed the 3,480 square miles of the county's area.

But for a half-century (1846-1896) the United States and Texas waged a heated dispute over Greer County. Controversy had origin in an 1819 treaty fixing the line between United States and Spanish territory. A map designating the Red River and 100th meridian as boundary lines was part of treaty; but map aroused dispute, for it incorrectly marked 100th meridian and showed only one fork of two-forked Red River.

Texas claimed the North Fork and meridian shown on map defined territory, and legislation and occupancy by Texans decided sovereignty. United States contended South Fork (larger of the two) and true 100th meridian marked boundaries. Three joint survey commissions failed to settle the issue. The U.S. Supreme Court in 1896 ruled that the region was in 1819 part of the Union and thus, was actually part of Oklahoma.

Named for John A. Greer, Senator, Secretary of State, Republic of Texas; Lieutenant Governor, 1847-1853.
---
Texas Ghost County: Encinal
Courtesy of the Texas General Land Office
Encinal County
Encinal County was formed in 1856 but was never formally organized. The present-day town of Encinal was to have been the county seat of government. The county was officially removed from documents on March 12, 1899.
---
Perdido County
The appropriately-named Perdido (Lost) County came into being in the 1820s – prior to the Texas Revolution. During the post-revolution land grants and the confusion of the 1830s and 1840s, the county was forgotten. With hardly any population to complain to Austin, it was thought to be abolished in 1858. After the turmoil of the Civil War, Perdido surfaced again – and was officially declared dead in 1871.

In 1848 land east of the Rio Grande was ceded by Mexico to form Santa Fe County. It disappeared with the Compromise of 1850.
---
Worth County

Worth County was originally formed from part of New Mexico's Santa Fe County on the third of January 1850. Although Val Verde was to be the seat of government, the county was never organized and the Compromise of 1850 ceded the land to the United States.
---
The First Dawson County

Prior to the formation of the current Dawson County in the Panhandle in 1876, there was a previous Dawson County (established on February 1, 1858) just west of the Texas Hill Country. Erased from maps by acts passed on October 5th, 1866, the county was formed by parts of western Uvalde County and part of eastern Kinney County. Named for Nicholas Dawson, this county was simply added to the Uvalde and Kinney County boundaries.
---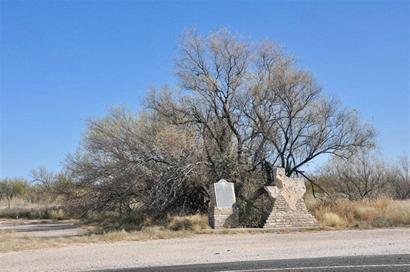 Historical Marker Text
Texas Territorial Compromise of 1850
Four miles east of this site is an official corner post marking agreement of Texas to give up some of the land won in her 1836 war for independence. It also marks New Mexico's southeast corner. When Texas was annexed to the United States, 1846, her territory included 98,300 square miles now in the states of Colorado, Kansas, New Mexico, Oklahoma and Wyoming. After the Mexican War (fought 1846-1848, over the annexation), anti-slavery forces in the U. S. sought to trim the size of Texas, a slave state. To raise money and establish a definite boundary, Texas accepted the compromise of 1850 and agreed to give up a third of her area in return for payment of $10,000,000. The money paid debts of the former Republic of Texas, set up a $2,000,000 public school fund, and erected state buildings, including a new capitol (which subsequently burned in 1881). By the 1850 compromise, the western boundary of Texas follows the 103rd meridian south from 36* 30'; near here intersects the 32nd parallel, then goes west along the parallel to the Rio Grande. The corner marks not only a peaceable boundary pact, but also shows an unbroken stretch of Permian Basin lands, unified in geography and common goals.
---
Texas Escapes, in its purpose to preserve historic, endangered and vanishing Texas, asks that anyone wishing to share their local history and vintage/historic photos, please contact us.
---