APPLEBY, TEXAS
Nacogdoches County, East Texas
Highway 59, FM 941 and FM 2609
7 Miles NE of Nacogdoches
Population: 444 (2000)
History in a Pecan Shell

Originally the site of a Caddo Indian village, settlers began arriving in the 1820s. The widely spaced homestead did form into a community until the arrival of the Houston, East and West Texas Railroad in the early 1880s.

Rather than local landowners, the railroad itself platted the town and named it to honor a former auditor of the railway company. By the mid 1880s the population was 100 and by the end of that decade the town had been granted a post office. During World War I the town reached its population zenith with almost 1,000 residents.

But by the mid-1920s the population was reduced by half – due to the proximity of Nacogdoches. A tornado did damage to the town in 1942 and the population declined to a mere 250 by the early 1950s. Businesses closed with the decrease in patrons and the post office closed. By the mid-1960s all stores had shut their doors. In the early 1980s Appleby was saved by retirees and commuters from nearby Nacogdoches. The 1990 census reported 449 residents and 444 by 2000.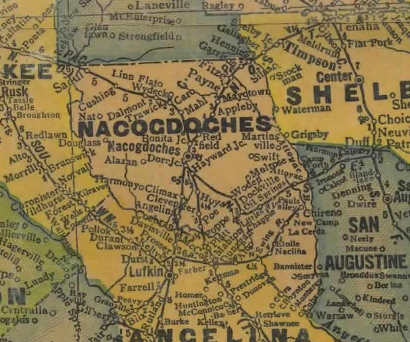 Nacogdoches County 1940s map showing Appleby
((Above "CH" in "NACOGDOCHES")
Courtesy Texas General Land Office
Texas Escapes, in its purpose to preserve historic, endangered and vanishing Texas, asks that anyone wishing to share their local history, stories, and vintage/historic photos of their town, please contact us.