Nacogdoches County was organized in 1837. Both city and county were named after the Nacogdoches Indians.
Nacogdoches Topics of Interest:
Nacogdoches History & People
Nacogdoches Landmarks / Attractions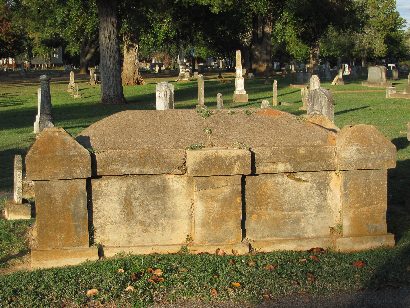 Lanana Creek Trail - 6 miles trail in Pecan Acres Park
Millard's Crossing - 6020 North Street (US 59 N)
East Texas architecture on 37 acres.
936-564-6631. Admissions
Oak Grove Cemetery - N. Lanana St, at Hospital St.
Including four signers of Texas Declaration of Independence.
Old Nacogdoches University - 1858 building today a museum. On Washington Square, Thomas J. Rusk Middle School campus. Mound and Hughes St. 936-569-7292
Old North Church - US 59 North and Highway 35.
The oldest union church in Texas.
The Old Stone Fort (by Archie P. McDonald)
"In 1936, a replica of the Old Stone Fort was located on the campus of Stephen F. Austin State University, and visitors can drop by and get a good idea of what the first building in Nacogdoches looked like."
Tues. - Sat. 9AM - 5PM. Sun. 1 - 5 PM.
Closed Monday and holidays. 936-468-2408
Ruby M. Mize Azalea Garden - Texas' largest azalea garden.
South of SFA Johnson Coliseum, University Drive.
Open daily. 936-468-1832
Stephen F. Austin Mast Arboretum -
On SFASU campus, off Wilson Dr.
Open daily. 936-468-1832
Sterne-Hoya Home - Historic home built in 1830.
211 S. Lanana St., 946-560- 5426
Lake Nacogdoches
10 miles west of Nacogdoches off FM 225
http://www.tpwd.state.tx.us

Nacogdoches Tourist Information
Nacogdoches Convention & Visitors Bureau -
(888) OLDEST-TOWN
200, East Main Street, Nacogdoches, Texas 75961
http://www.visitnacogdoches.org/
Nacogdoches Hotels > Book Here
The Chapel at Millard Crossing
Photo courtesy Barclay Gibson, January, 2006
Postcard courtesy www.rootsweb.com/ %7Etxpstcrd/
Nacogdoches Today - Photo Gallery
Downtown Nacogdoches
Photo courtesy Dana Goolsby, November 2011
Chas Hoya 1897 Land Office Building
Photo courtesy Dana Goolsby, November 2011
Nacogdoches City Hall
Photo courtesy Dana Goolsby, November 2011
General Mercantile
Photo courtesy Dana Goolsby, November 2011
Postcard courtesy www.rootsweb.com/ %7Etxpstcrd/
Nacogdoches Texas Forum
Nacogdoches claims to be the oldest town in Texas, using 1716 as the date. Now, the Dallas Morning News Texas Almanac and the Univ Texas Handbook of Texas, on line, say it 'aint so. They say Ysleta and Socorro of El Paso were est. ~ 1680-2, which is an earlier date even using public school math. I suspect there's some 'school pride' in this Nacogdoches-ites claim, but is there a real, non-tall-tale truth for claiming to be the oldest? Or maybe Mr. Bowman has this covered somewhere? - J R Overton, May 04, 2004

Texas Escapes, in its purpose to preserve historic, endangered and vanishing Texas, asks that anyone wishing to share their local history and vintage/historic photos, please contact us.

More Texas Towns | Texas Ghost Towns | Texas | Texas Hotels
Custom Search
Book Hotel Here - Expedia Affiliate Network