GOLDEN, TEXAS
Wood County, East Texas
.9 mile off Highway 69
at FM 1799 and FM 779
5 miles SE of Alba
5 miles NW of Mineola
33 miles NW of Tyler
Population: 156 (1990)
Area Hotels - Book Here > Tyler Hotels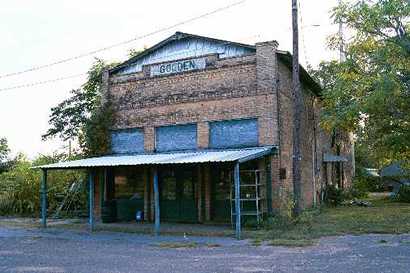 History in a Pecan Shell

The area was settled as early as the mid-1860s.

Golden was named after one John Golden, a construction engineer for the MKT railroad when it built South from Greenville toward Mineola in 1881.

This portion of Wood County supplied railroad ties for the MKT while the timber lasted. By the mid 1880s, Golden had been granted a post office and by 1890 it had a respectable 100 citizens, several businesses and a vineyard - a fairly rare enterprise for East Texas considering the abundance of wild grapes.

By the mid 1890s the population was around 300 and just prior to WWI the town reached it's population high-water mark of 650. The town got a bank in 1907 and their newspaper was cleverly named "The Golden Rule."

The Great Depression forced the bank to close in 1931 and it is thought that the pictured vault may be that of the bank.

Golden's population declined further and by the mid-1950s, the railroad had abandoned the Greenville - Mineola tracks. The population has remained between 100 - 200 persons from the late 60s until the present.

Sweet Potato Festival - the fourth Saturday of October

Area Hotels - Book Here > Tyler Hotels | More Hotels
A business in Golden
Photo courtesy Jack Williams, 9-02
A vault - quite probably belonging to the Golden Bank
Photo courtesy Jack Williams, 9-02
Photographer's Note:
I was driving through the woods on the way home from who knows where when all of the sudden I came upon two large buildings standing across a large intersection from each other. The town was Golden, TX .... I have attached a picture of each of the large buildings, the post office, and the remains of the bank vault. There are also three cafe's nearly side by side, a small store, and at least one church. There is also a cemetery. ...

They have a sweet potato festival on the fourth Saturday of October. ... Again, thanks for letting me contribute - Jack Williams, October 01, 2002

Area Hotels - Book Here > Tyler Hotels | More Hotels
Golden Memories
I am writing you to give you my memories of Golden.

My name is Dorothy Brooks Tomlins, born as Dorothy Lee Brooks in Alba, TX in July 1915. My parents, Tura & Charles, who was known as CJ, moved to Golden in 1915 when I was a few months old.

Our house in Golden, was on Sandy Road, right across from the railroad track. When the train would come by, I would run up on the hill and wave to the engineer, he would throw me a piece of candy as he went by. There was a mill down the road from us, where they made sugar cane syrup. My dad bought a small piece of land near the Methodist Church, where we were members, and we kids grew cucumbers. They were shipped out from Golden and we made a little bit of money. In the 1970's my brothers, Charles Maynard and Joe Wise, and I donated the lot to the Methodist Church.

My grandfather, Joe Brooks, and wife Lizzie Brooks had a small grocery store on the highway in Golden, and my dad, CJ, and his brother Ambrose, started Brooks Brothers Drug Store. It was a long brick building. It soon became only Brooks Drug Store, my dad was a pharmacist. Many nights he was called to fill a prescription and since there wasn't a doctor in town, many started calling him "Doc". There was no electricity when we moved to Golden. But when I was 8 years old, dad had electricity brought into Golden.

Our friends, the Harrison's, lived across the road from my grandparents. They had the only telephone so they were "central". I loved spending the night with Marie, their youngest daughter. They also had a storm cellar, and I remember when a storm would be coming in, we called them cyclones, we would all run to their storm cellar. Such excitement!

In 1927 (approx) my brother Charles Maynard, graduated from high school in Golden (10th grade), and my parents were encouraged to further his education. The new highway was rerouted around Golden, so we moved to Denton where there were 2 colleges. Dad still had the drug store, until the Great Depression hit, his business failed, as did his health.

My son Paul and his wife Sandy are driving me to Golden in May, I haven't been back to Golden since I was 17, and since I will be 93 in July, I am truly looking forward to seeing Golden and reliving some wonderful memories. - Dorothy Tomlins, March 07, 2008
Golden Texas Forum
Subject: Golden Gas Station Jam Session
About 20 years ago I was taking a shortcut to a relative's weekend retreat in East Texas. It was a Saturday evening just after sunset and I was coming into the town of Golden. I came around the corner and there was an old gas station. The pumps instantly caught my eye because they were so old I knew that they could not be in operation. At that point I noticed a group of men standing there with musical instruments. There were three or four elderly gentlemen on guitars and a young Mexican farm worker on a stand-up snare drum. The men had their cigarettes resting on top of the gas pumps while they play country music. I stayed there for about 45 minutes for some of the most entertaining moments of my life! - Dennis Christy, Irving, Texas, October 20, 2007


Subject: Golden Texas
Dear TE, It was exciting to see Golden Texas [in your magazine], especially in light of the fact that the first picture shown is the building where I was born, or so I've been told. Evidently, after the bank closed down, it was turned into an apartment and I was born there in March of 1941. My parents divorced when I was 12, but my father, Alvis Galusha, is buried there in Golden Cemetery.

My cousins and my brother and I used to explore when I was a kid and I remember the railroad well even though we weren't supposed to be that far away from my grandparent's land. We would sit and watch the train go by and the engineers would throw us chewing gum. Being a city girl, visiting my grandparents every summer in the country was always the highlight of my year. This has really brought back memories. I still go back occasionally to the cemetery and love to go into the main store there where pictures of my grandparents are on display as well as some other relatives. I was so astonished the first time I saw the pictures, but thrilled.

I have passed this website on to my brother and my children who will probably be extremely interested in preserving these momentos. So thank you very much for the effort and research you have conducted. - Connie (Galusha) Lattoz, Baytown, Texas, February 15, 2007


Dear TE: My name is Tommy Wayne Bullard and I was born in Golden, on September 11, 1943. My Grandmother was Mollie Branum, later Mollie Benthul. She is buried in the Golden Cemetery. My Dad farmed and performed mechanical work in Golden. We moved to Vidor Tx about 1945 but returned to Golden three or four times a year as long as my Grandmother was there. I have a Cousin in Mineola, that was also raised there. He might be able to tell you more about Golden. I have only good memories about that nice little town. Thanks. Tom Bullard, Vidor, Texas, September 23, 2006


First of all, great website! I read with interest the info on Golden Texas. I, along with other relatives just purchased one of the two buildings pictured on your page (the two-story building.) The building is now an art gallery with studios upstairs. Of course, we are interested in any information on the building, and Golden in general. Included in your information is mention of a vineyard - we have not been able to find any other mention of this and wondered where you found that info? We would like to someday re-establish a vineyard in Golden so any info you have would be greatly appreciated. Thank you. - Craig Musgraves, Golden, TX, November 10, 2004



Related Topics:
Texas | Texas Towns | Texas Ghost Towns | Texas Hotels

Texas Escapes, in its purpose to preserve historic, endangered and vanishing Texas, asks that anyone wishing to share their local history, stories, and vintage/historic photos, please contact us.
Custom Search
Book Hotel Here - Expedia Affiliate Network