---
---
---
TYLER, TEXAS
Smith County Seat, East Texas

32° 21' " N, 95° 18' 0" W (32.35, -95.3)
Junctions of US Hwy 69 & 271,
State Hwy 14, 31, 64, 110, & 155
99 miles SE of Dallas
37 miles W of Longview
59 miles W of Marshall
Population: 104,798 Est. (2016)
96,900 (2010) 83,650 (2000) 75,450 (1990)
Tyler Azalea Trails - "The trails wind through old neighborhoods south of downtown."
Photo courtesy Sam Fenstermacher, March 2006
TYLER
A drive with beauty and history
(Excerpted from "The East Texas Sunday Drive Book" by Bob Bowman)

The countryside around Tyler is both beautiful and historical, and this Sunday Drive will give you an opportunity to simultaneously enjoy the two aspects.

Start your trip in downtown Tyler with a visit to the Carnegie History Center, located at 125 South College. Open Wednesday through Sunday, the Center offers an excellent overview of the history of Tyler and Smith County, starting with the days when Indians roamed the land.

You'll also want to take enough time to drive through a residential area surrounding Bergfeld Park, located on South Broadway. This area is known for its stately mansions and historic homes, many of them dating back to the l930s when oil brought immense wealth to Tyler. Some of the north-west streets you'll want to explore include South College, Bois d' Arc, College, Robertson and Chilton.

As you drive, pay close attention to the old brick streets. They constitute one of the largest collections of brick-surfaced streets in Texas.

Tyler, settled in the 1840s, owes its name to President John Tyler. Smith County, of which Tyler has been the only county seat, was created in 1846 from part of what is now Nacogdoches County. the county was named for General James Smith, a Texas Revolution leader who was serving in the Republic of Texas Congress when the county was named for him.

Every visit to Tyler should include a tour of the municipal Rose Gardens, the largest garden of its type in the country. Boasting over 38,000 rose bushes with more than 500 varieties, the garden is located adjacent to the East Texas Fair Grounds on West Front Street. Nearby is Rose Stadium, home of Tyler Junior College's football team.

Tyler Hotels > Book Hotel Here
Other Attractions in Tyler include:
The Tyler Museum of Art, located adjacent to Tyler Junior College on Mahon Street. The museum offers changing exhibits of 19th and 20th century art. It is open Tuesday through Sunday.


Hunall Planetarium, also on the Tyler Junior College campus. It is the only planetarium in East Texas and offers seasonal shows on a variety of celestrial subjects. Call for show times and reservations.


Brookshire's World of Wildlife, located at the Brookshire headquarters on Loop 323 in South Tyler. The museum contains more than 150 specimens of animals from across the globe with special emphasis on African and North American Wildlife. In addition, you can step back to the 1930s at an old-fashioned country store and see how grocery shopping has changed. The exhibits are open Monday through Friday.


Caldwell Zoo, located on Martin Luther King Boulevard in North Tyler. The muncipal zoo offers exhibits with more than 500 animals, making it the most complete zoo in East Texas. The zoo is open every day.


Goodman Museum, located on North Broadway near the downtown area. This antebellum home features 19th century artifacts, antiques and period medical instruments. Days of operation change with the seasons.


The site of Camp Ford on U.S. 271, just north of Loop 323. The Civil War prison camp housed up to 6,000 Union soldiers in the l860s.


Myrtle-Vale, Colonel John Dewberry's Home -
"The $194,000 restoration was completed in 2001 and Colonel Dewberry's proud old home is now open for tours, receptions and other events. The restoration also earned the Bergfelds the prestigious Terry Preservation Award given annually by the East Texas Historical Association. Today, Myrtle-Vale is one of the most magnificent pre-Civil War homes still standing in East Texas." 15 miles southwest of Tyler.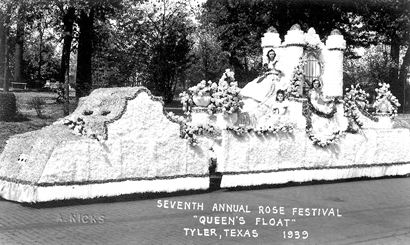 You may want to time your Sunday Drive with two special events, the world-famous Tyler Rose Festival, which is held in the middle of each October, and the Tyler Azalea Trail, which is held in late March and early April. Held in conjunction with the Azalea Trail is Tyler Heritage on Tour, which features several historic homes, complete with carriage rides.

Tyler Hotels > Book Here

The Blackstone Building today houses the Tyler Chamber of Commerce
Photo by John Troesser, 5-02
When you leave Tyler, continue your Sunday Drive by heading north on Farm Road 14, which will carry you to Tyler State Park, a jewel of a recreational area carved from the pine forests. The park offers facilities for swimming, historical intrepetration, camping and picnicking.
http://www.tpwd.state.tx.us/park/tyler/tyler.htm


From the Tyler State Park, continue north on 14 until the road intersections with Farm Road 16. Start south on 16 until you reach the community of Winona, which was settled in the early l840s and named for Winona Douglas, the daughter of a prominent businessman.


At Winona, continue on 16 to the old town of Starrville, once an important overnight stop for stagecoaches and freight haulers, as well as a crucial manufacturing community. In l869, Starrville had the Texas Fair, said by some sources to have been the first state fair in Texas.

From Starrville, turn south on Farm Road 757 until you intersect with Farm Road 345 west of Arp. Turn south on 345 until it turns into 346 and follow the latter into Troup, a one-time planters village that was developed as a railroad stop in the l870s.


From Troup, head back toward Tyler on Texas 110, but between Troup and Whitehouse, turn east on Farm Road 344 to Bullard. Near Bullard is the old town of Burning Bush, a religious colony that existed between 1912 and 1915. The colony grew truck crops, processed fruits and tried unsuccessfully to drill for oil.

At Bullard, continue east on 344, which will carry you along the eastern edge of Lake Palestine. You can continue along the lake shoreline by picking up Farm Road 266 at its intersection with 344 and Texas 155.


Stay on 2661 until it intersects with Texas 64. Turn to the east here until you reach the intersection with Farm Road 724. Continue in a northerly direction on 724 until you reach the Mount Sylvan community. Here, turn east on Texas 110 until you come to the intersection with Farm Road 849, which will carry you into Lindale, which dates back to l875 when it became a stop on the railroad. Near the town is the old Steen Saline, which employed some 3,000 men during the Civil War to furnish salt for the Confederacy.

From Lindale, pick up U.S. 69 and return to Tyler.

For meals during your drive, we recommend a couple of Tyler eateries. The Hoffbrau, located on East Fifth Street not far from Tyler Junior College, serves an excellent pan-fried steak in a rustic atmosphere. Liang's, located in a shopping center at the intersection of Loop 323 and Texas 110, serves some of the finest Chinese food in East Texas.

(For additional information about places found on this Sunday Drive, contact the Tyler Area Chamber of Commerce, 407 North Broadway, Tyler, TX 75710, telephone 214/592-1661.)
The First Baptist Church in Tyler
Photo courtesy Lori Martin, 2005
---
More on Historic Tyler, Texas
Tyler -
A Photographic History
---
Tyler's Native Sons

Casablanca's East Texan by Bob Bowman
Dooley Wilson played the piano player who sang "As Time Goes By," in the classic film Casablanca. An African-American, Wilson was born as Arthur Wilson on April 3, 1886, in Tyler. more
---
---
Tyler, Texas Forum

Subject: Tyler Azalea Trails
We drove down to Tyler Texas Sunday to see the homes and yards along the Tyler Azalea Trails. The trails wind through old neighborhoods south of downtown. The homes and yards are beautiful. They also had young ladies, dressed in Victorian period attire, greeting passersby. - Sam Fenstermacher, March 29, 2006


More East Texas Day Trips › East Texas Sunday Drives
A rose garden in Tyler
Postcard courtesy rootsweb.com/
~txgenweb// postcards/Index.html
The Federal Courthouse in Tyler
TE Photo, 5-02
---
Texas Escapes, in its purpose to preserve historic, endangered and vanishing Texas, asks that anyone wishing to share their local history and vintage/historic photos, please contact us.