History in a Pecan Shell
Two brothers (with the cumbersome name of Munzheimer) are credited as the community founders. Harry and Gus were developers who had left Texarkana and bought forested acreage here in the late 1800s. Early on, the name was shortened to just plain Munz.

The brothers had big ideas to get their timber (and other people's freight) to market. They devised a narrow-gauge railroad connecting to Texarkana with Munz as the terminus. The railroad was named the Northeast Texas Railroad Company and initially began in Texarkana through Redwater to Maud and terminated at Munz City.

The tracks reached Munz in 1905 and city lots were sold as property in "Munz City." A post office was granted in 1905 but was closed just 3 years later.

Brother Gus Munzheimer seemed intent on Munz City becoming a destination. He built a hotel, a train depot, a boarding house and even a brickyard.

Like most of East Texas, towns large and small declined as the timber was cut and Munz City was no exception.

In 1914 disaster struck in the form of a huge tornado that wiped the town off the map. With the timber all but gone, there seemed no reason to rebuild. Lots (whose owners had planned to build homes) were sold at auction and the rest of Munz reverted to watermelon and cotton fields and in time, timberland.

The Brothers Munzheimer returned to Texarkana where they had much better luck with real estate development. The railroad rails were eventually sold as reinforcement material in public buildings. In the region.

Today there is nothing left of Munz and the old scar of the railroad roadbed is the only tangible proof that a town was once here.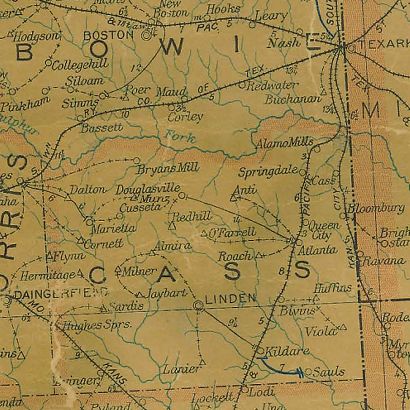 Cass County 1907 postal map showing Munz
(Above "A" in "CASS")
Texas General Land Office
Texas Escapes, in its purpose to preserve historic, endangered and vanishing Texas, asks that anyone wishing to share their local history and vintage/historic photos, please contact us.
Custom Search