History in a Pecan Shell
Named after Saltillo, Mexico (no reason known) by storekeeper John Arthur, the town was settled before the Civil War.

In 1860 the community was granted a post office. A rival store opened across from Arthur's store which gave the town the unofficial name of "Twin Groceries."

The population was 60 by the mid 1880s. (See 1882 map below.) The St. Louis Southwestern Railroad laid tracks 1.5 miles north of Saltillo in 1887, the post office and one store moved to the new community, creating an "Old Saltillo" which still appears on detailed Hopkins County maps.

The population of (new) Saltillo was 350 by 1914 and all essential businesses were established, including a newspaper.

Like most towns, Saltillo prospered in the 20s and declined in the 30s. The 1933 population of 250 residents remained for the 1940 census. In 1964 the population had increased to 270 but has decreased to 200 by 1990. The same figure is given for the 200 census.

Old Saltillo remains in the form of a Methodist church and cemetery.
---
by Bob Bowman

A recent caller from Bowie County had an intriguing question recently, "Does East Texas have a town named Twin Groceries?"

The answer is yes and no.

Around 1850, John Arthur helped settle the town of Saltillo on the Old Jefferson wagon road sixteen miles east of Sulphur Springs in Hopkins County. He named it a town in Mexico.

Saltillo soon became a popular place for teamsters, leading to the establishment of a post office in 1860 with Moses Russell as the postmaster.

The town also had a gristmill, a cotton gin and a store.

A second store was opened on the opposite side of the road from Arthur's store and for the first time, the community was known as "Twin Groceries" for obvious reasons.

But the name didn't last long and Saltillo reemerged. By 1885. Saltillo had a water-powered gristmill, two churches, a school and a population of about sixty. But what about Saltillo's name?... more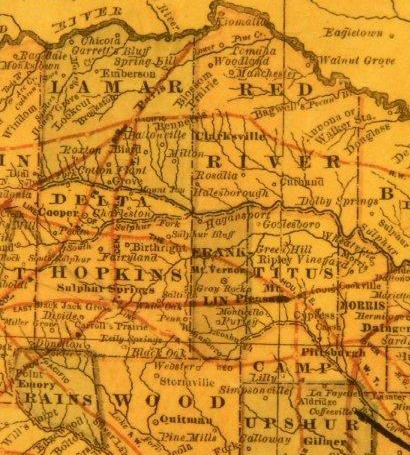 ---
---
Texas Escapes, in its purpose to preserve historic, endangered and vanishing Texas, asks that anyone wishing to share their local history, stories, landmarks and recent or vintage photos, please contact us.