---
---
---
Hopkins County Courthouse and Town Square
Text and Photos by Sam Fenstermacher

The town square in Sulphur Springs is a dramatically different place. A vintage J. Riely Gordon courthouse occupies the northeast corner of the spacious town square. This offset location is both by choice and chance. The previous courthouse was built on the east side of the original town square. When that building burned down in 1894, a decision was made to buy additional property east of the town square and build the present day courthouse on the northeast corner of the enlarged town square.

The net result of all these events in Hopkins County is a spacious public square with plenty of room for parking and public gathering. Along the eastern side of the square there's a bandstand and a small yard with trees and benches. The parking lot and walkways on the square are paved with red bricks. This adds a vintage feel to the place, and also creates a dramatic approach to the county courthouse....
next page >
The Hopkins County courthouse and square.
1906 Postcard courtesy James Perkins

Book Hotel Here >
Sulphur Springs Hotels
Sulphur Springs celebrates 150 Years of History in 2004


HISTORY:

A County Seatís Troubles by Bob Bowman

As Hopkins Countyís first seat of government, Tarrant had more troubles than most frontier communities in East Texas. In the end, the misfortunes converged to cause the townís demise after 24 years of tenuous existence.

In 1846, the Texas Legislature created a new county named for the Hopkins family from portions of Lamar and Nacogdoches counties.

Two places within three miles of the center were chosen as suitable sites for the county seat. Eli Hopkins offered the county suitable land for a public square and courthouse if voters would decide in has favor. His brother Eldridge, however, made a similar but competing offer.

Eldridgeís tract won out and the county seat was named for General Edward H. Tarrant, a legislator who decided that he had rather fight Indians on the frontier than deal with politicians. He became a Texas Ranger and was popular among the frontierís settlers.

As a county seat, Tarrant began to grow. The county used a log cabin as the first courthouse and county officials often carried county records to their homes for safekeeping. In 1851, a contract for a permanent courthouse was awarded, but the construction floundered for lack of money.

The solution was ingenious, if not legal. When an official noted that cattle herds being driven through East Texas by Louisiana cattlemen were munching on Hopkins Countyís grasslands, the cattle were found to be in violation of a law that supposedly said Texas grass was not free.

Hopkins County charged the herdís owners with breaking the law and seized some 300 head of cattle, sold them at auction and raised $1,772 to finish the courthouse.

Following the Civil War, and the imposition of Reconstruction rule in Texas, Tarrantís people found that federal soldiers had little sympathy for East Texas.

The commander of a federal company in East Texas deployed his men at Sulphur Springs, instead of at the county seat, and ordered the countyís records delivered to his headquarters.

The county records remained there until 1870 when civilian rule was reestablished in the county and the records were returned to Tarrant. But Tarrantís victory was short-lived.

The Texas Legislature soon approved a special act to make Sulphur Springs the county seat. The Tarrant courthouse was closed and sold at auction.

When the county seat was moved permanently to Sulphur Springs, many county residents objected, particularly those living in the north side of the county. They claimed Sulphur Springs was not the center of Hopkins County.

But under another act of the Texas Legislature, a part of Lamar County and the northern portion of Hopkins County were organized into a new county known as Delta and the southwestern part of Hopkins County was deleted and became Rains County.

The gerrymandering placed Sulphur Springs near the exact center of Hopkins County.

Tarrant began to fade away and today, except for a well-kept cemetery, there are no reminders today of Old Tarrant.


© Bob Bowman
From "Bob Bowman's East Texas" Column
Mission Theatre in Sulphur Springs
December 1984 photo courtesy Billy Smith
Sulphur Springs Attractions
Cooper Lake State Park
In northern Hopkins County
Rt 3 Box 741 Sulphur Springs TX 75482
903/945-5256
Hopkins County Museum and Heritage Park
416 N Jackson St. Admission fee
Music Box Gallery
611 N Davis St. in library. 903-885-4926
Southwest Dairy Center
In Civic Center Complex, 1210 Houston St. (Hwy 11).
903-439-MILK
Sulphur Springs Tourist Information
Visitor Center - I-30. At the Factory Store of Amaerica mall.
888-300-6623 - Information on city, events, accommodations and dining
City of Sulphur Springs - http://www.sulphurspringstx.org/
Hopkins County Chamber of Commerce - 903-885-6515
http://www.sulphursprings-tx.com/


Book Hotel Here >
Sulphur Springs Hotels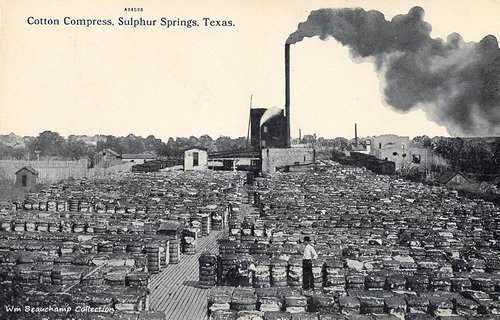 Related Stories:


Selling the Calves by Robert G. Cowser

In the late 1940s cattle auctions were common in the towns of Northeast Texas. Each town picked a different day of the week so as not to compete with nearby towns. Sulphur Springs held its auction on Mondays, Mt. Pleasant on Tuesdays, Paris on Wednesdays, and Winnsboro on Fridays. Most of the livestock bought by buyers from local meat-packing plants were calves born in the spring and sold in the late summer or early autumn.

On our farm near Saltillo my father kept a herd of thirty Jersey cows as breeders. He bred the cows to a Hereford bull because the Jersey cows produced more milk than Hereford cows and the milk from the Jerseys was higher in butterfat.... more

Sulphur Springs water tower, razed in 2002
2002 photo courtesy Lou Ann Herda
Sulphur Springs Water Tower (Razed in 2002)

Photographer's Note
"Sulphur Springs complete with power lines/phone lines that I couldn't get around. I was standing in the middle of a very busy road at the time before I realized traffic was headed my way. I think this tower is an A-1 example of a fine Texas water tower. Not as nice as the Fayetteville one, but still pleasant. The cursive lettering is unmatched." - Lou Ann Herda, April 14, 2002

Reader's Update
Thank you for your kind remarks about our water tower. However, I'm afraid it is no more. Not long after you took that photograph, the landmark was torn down. It was really sad to a lot of us. - John L. Bradberry, Sulphur Springs, TX, August 12, 2003
---
Texas Escapes, in its purpose to preserve historic, endangered and vanishing Texas, asks that anyone wishing to share their local history and vintage/historic photos, please contact us.
---