History in a Pecan Shell

John Campbell left Ireland in 1855 with the purpose of starting a ranch in Texas. He became the first postmaster for the people he convinced to make the trip with him and of course he ran the first store as well. But he also held church services in his home and started the first school.

In 1890, they had a population of 30, with 3 churches to hold services for them. This population actually dropped for awhile, but was regained by 1914. With the arrival of the railroad in 1912 (The San Antonio, Uvalde and Gulf), the town changed from a ranching community to a ranching community with a railroad.
Campbellton closed business
Photo courtesy Barclay Gibson, February 2009
An overgrown house in Campbellton
Photo courtesy Barclay Gibson, February 2009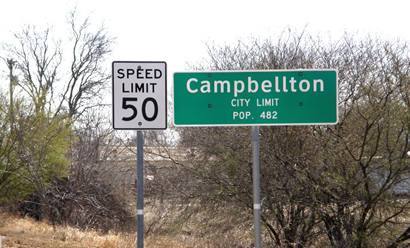 Campbellton, Texas Forum
Subject: Campbellton, TX
Dear Texas Escapes, First let me say, "Good Job"!!! I really enjoy your website!!! Next, I am writing to give you a little extra info on this little town in Texas, Campbellton.

In 1833, my great great great grandfather, Thomas Henesey, came to Texas from Ireland. He was granted a Spanish Land Grant in the McGloin & McMullen Colony in the area of Campbellton, in fact, if you look on a plat map of the county you will see the town of Campbellton was completely inside his land and his name is still on the records today. The story goes that due to the Texas War for Independence he was unable to claim his land grant around and encompassing Campbellton so he petitioned the government of Texas for another land grant after the war which is validated per letters I found in the Texas State Archives. My grandfather had settled in the Powers Colony after the war. It was not until 1853 that his petition for a headright land grant was finalized and he was awarded his land but in Calhoun County, where his name is also on the county plat map. Sad thing is that by the time the process was finished and it was granted to him he was deceased. His death took place around 1850 as best I can tell from documents and records.

His younger brother, Walter Henesey, came with him from Ireland but died in the War for Independence from Mexico. My great great great grandfather only had one child, a son, Thomas Hennesey, from which my lineage springs. I have been amazed at what I have learned about my family in my research in the last five years. It has been so very exciting. Thanks again for all your hard work. Warmest Regards, Angela Warren Orlando, February 18, 2007

Book Your Hotel Here & Save:
San Antonio Hotels
More Hotels