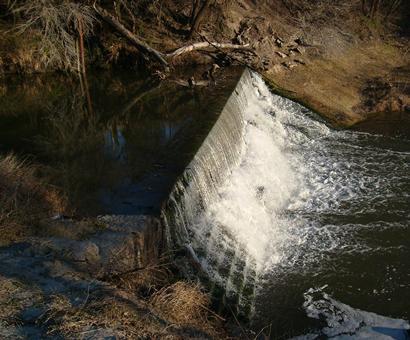 History in a Pecan Shell

Annie T. Hamilton paid the San Antonio, Uvalde and Gulf Railroad to build a depot on her land in 1913. Her money bought her the immortality of having the town named Hamiltonburg. Her immortality was short-lived, however, when mail was frequently sent in error to Hamilton, Texas. The mail-receiving residents of Hamiltonburg wanted a new name - and fast. Charles R. Tips who had sold parcels of land for the townsite, suggested the town be named for its location near the three Rivers of Atascosa, Frio, and Nueces. The new name was in effect on May 1, 1914 and we have been unable to find a record of Annie Hamilton's reaction.

In 1920 natural gas was discovered, piped into town and soon a refinery and a glass factory were built. The glass factory was closed in 1938 but the refinery today now belongs to Valero (formerly Diamond Shamrock) and is the town's major employer. In 1925 the population was estimated at 1,000 and it slowly increased by 1965 to 1,932 and later to 2,177 by 1988.

The building of a dam produced Choke Canyon Lake. The town has been flooded at least once. and only recently (2003) has the theater downtown reopened after being totally restored.

See Three Rivers Historical Marker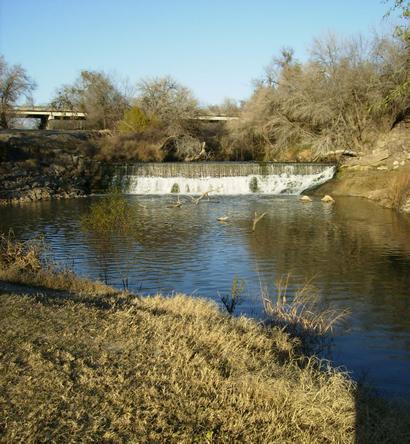 Photographer's Note:
One of the three rivers in Three Rivers. I didn't see the alligator sign until I was walking off!! - Sarah Reveley, January 2010
The Rialto Theatre
Only recently (2003) has the theater downtown reopened after being totally restored.
Photo courtesy Barclay Gibson, August 2011
More Texas Theatres
Selena mural in Three Rivers, 11 miles north of George West.
TE Photo, 2004
Bottom of Dr Pepper bottle made at the Three Rivers Glass plant.
Photo courtesy Will Beauchamp, 2009
Photographer's Note:
The Three Rivers Glass Factory made soda bottles for hundreds of bottling companies across Texas and surrounding states. Most found have the mark 3 RIVERS* or 3R* on bottom or on the heel. - Will Beauchamp
Three Rivers Glass Factory
Historical Marker
Photo courtesy Will Beauchamp, 2009
Three Rivers Historical Marker on the town square on US 281
Photo courtesy Will Beauchamp, 2009
Historical Marker
Three Rivers
Founded March 1913 by Charles R. Tips. An investor chartered June 12, 1913, as Hamiltonburg--named for local family. Town lot sale began July 4, 1913. Townsite renamed by U.S. Postal Department May 1, 1914, to mark fork of three rivers--Nueces, Atascosa and Frio. Present interests are ranching, farming, gas, oil and recreation.
---
---
---
Federal Prison sign
TE Photo, 2004
---
Three Rivers, Texas Forum
Subject: Three Rivers History
I am from there and I believe the last flood there was in the 1967 after hurricane Beulah. In the 1980's (I believe it was the 80's...it could have started in the late 70's) a levee was built around the city to keep it from flooding again. Also Diamond Shamrock is now Valero. Just a few things I wanted to point out. All in all I really enjoy this website...great work! Thanks, Stacy Meeks, Austin, December 15, 2005
---
Texas Escapes, in its purpose to preserve historic, endangered and vanishing Texas, asks that anyone wishing to share their local history, stories, landmarks and vintage/historic photos, please contact us.