MISSION, TEXAS
Hidalgo County, South Texas
US 83 and Hwy 107
3.5 miles N of the Rio Grande
18 miles SE of Edinburg
8 miles W of (and adjoining) McAllen
Population: 45,000 (2000)
St. Joseph & St. Peter Seminary in Mission.
This Seminary burned in 2009.
Photo courtesy Barclay Gibson, July 2004
History in a Pecan Shell

The settlement of Mission is directly tied to once was the La Lomita community, some 5 miles south. The French Oblates of Mary Immaculate developed a chapel on this portion of land which had dated back to a Spanish land grant. Up until 1904, the railroad had only advanced 5 miles from La Lomita to a railhead town known as "Mamie." The railroad was enticed (by a new depot and 20 acres of land) to extend the remaining distance to what became Mission.

In 1907 when the railroad arrived Mission developed from an influx of new arrivals and the moving of the operations of the Oblate fathers. John J. Conway and J. W. Holt purchased the La Lomita Ranch from the religious order and with other accquired properties, they parceled the land into small tracts for resale.

The naming of the post office in 1908 accounts for the name change. Since another Lomita, Texas had been granted a post office under that name, the name Mission was submitted to and accepted by postal authorities.

1908 was a busy year for the town with a school and pharmacy joining the depot and post office. The next year a hotel was built and a newspaper was established. Mission incorporated in 1910.

A developer named John H. Shary improved the extant (but crude) irrigation system and sold small tracts of land for farms around 1910. The long growing seaon allowed vegetable farmers to grow three crops a year. Shary's name lives on with the community named Sharyland (adjoining McAllen).

Oil was discovered in the 1930s, providing a boost to the economy, but it was nothing like the oil discoveries further north near Freer. In 1941 Shary and other businessmen bought land northwest of Mission which they then sold at cost to the government for use as an air field. Named Moore Field, it maintained a population of about 3,000 during the years of WWII. Former airmen and their families returned to settle in Mission after the war. At the close of the WWII it became Tri-Cities Airport and then during the Korean conflict it was activated as Moore Air Force Base in 1953. It closed again in 1960.

Populations:
1915: 2,000, 1940: 6,000, 1950: 10,700, 1960: 14,000, 1970: 13,000, 1980: 22,500, 1990: 28,600 and 2000: 45,000

Mission Attractions & Nearby Destinations >
Mission Hotels >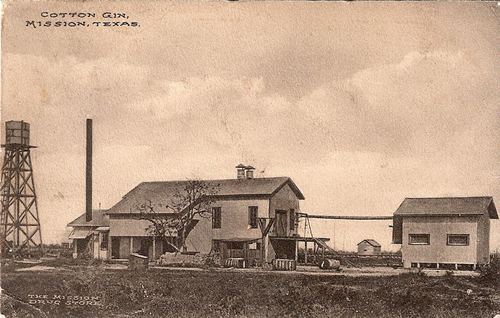 Mission Attractions & Nearby Destinations
Nearby Destinations


La Lomita - On FM 1016, 3 miles south of US 83.
La Lomita Chapel, circa 1889, and the municipal historical park

Los Ebanos Ferry on the Rio Grande -
The last hand-operated ferry on either border.

World Birding Center Headquarters - 956-584-9156
Located in the Bentsen-Rio Grande Valley State Park.
Anzalduas County Park - 4 miles S of Mission on the Rio Grande.
Ideal place for butterfly and bird watching. 956-585-5311
Santa Ana National Wildlife Refuge - 956-784-7500
23 miles SE of Mission
Abundant wildlife, plants, and birds (many not found anywhere else in the United States.) Entrance quarter mile east of the intersection of US 281 and FM 907. 4 miles East of the Pharr/Reynosa International Bridge.
Shary-Shivers Estate - 4 miles north on FM 494
Tom Landry Mural - In downtown Mission. Corner of North Conway and 101 E. Tom Landry Ave.
Mission Hotels > Book Here


Mission's Major Events
Contact the chamber for details - 800-580-2700
Texas Citrus Fiesta - Annual celebration in January
Texas Butterfly Festival - October
Mission Hotels > Book Here
Native Son
Kid Mendoza' and the Battle of the Bulge
Sgt. Jose Mendoza Lopez
Born in Mission, Texas, on July 10, 1910.
December 1944 found Lopez in a bloody conflict known as the Battle of the Bulge. For his actions on Dec. 17, 1944, near Krinkelt, Belgium, Lopez received the highest military decoration for valor in combat – the Medal of Honor.
Mission, Texas, named a street and city park after him.
First Christian Church

1940 Postcard courtesy rootsweb.com/
~txgenweb// postcards/Index.html
Shary Memorial Chapel, Mission, Texas

Postcard courtesy rootsweb.com/
~txgenweb// postcards/Index.html
Texas Citrus Fiesta

Postcard courtesy rootsweb.com/
~txgenweb// postcards/Index.html
A 1978 a book written by local author Cleo Dawson was made into a movie titled She Came to the Valley. It was filmed on location in Mission and La Lomita

DVD
A movie filmed on location in Mission
Custom Search
Book Hotel Here - Expedia Affiliate Network