History in a Pecan Shell
The original owner of the Rossville site was Col. José Antonio Navarro, the namesake of Navarro County. In the 1870s he bequeathed the site to his son J.A. George Navarro who subdivided the land into small farms, each having access to the Atascosa River.

Scotsman John Ross married J.A. Navarro's daughter. John and his brother W.F.M. Ross, were co-founders of the town of Rossville in the early 1870s.

The community was granted a post office in 1877 and grew as a shipping point for cotton and livestock. In 1900 the community consisted of the post office, a school, three stores, two churches and a population of around 300.

Improvements in the early years of the 20th century included a Catholic church and a two-room school.

The anticipated railroad from San Antonio to Laredo bypassed Rossville, dashing hopes of growth. By the mid teens, the population had declined by half and the boll weevil had devastated the cotton crop, forcing the community to diversify. To peanuts and watermelons.

Two stores managed to survive the Great Depression although other buildings were razed or cannibalized for their material. The post office closed in 1947 and the school merged with the Poteet schools in the mid 1950s.

In the mid 1980s, Rossville residents opened a community center which serves as an election precinct and for general community gatherings.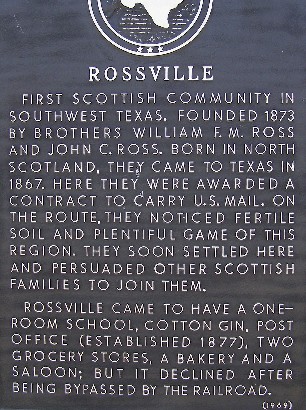 Custom Search
Book Hotel Here - Expedia Affiliate Network