Site of Old Town of Union Valley historical marker
Photo courtesy Sarah Reveley, 2007
History in a Pecan Shell

Union Valley is linked with its neighbors of Nockenut and Albuquerque, not only for all three being ghost towns, but their similar locations – since all three ran alongside the Wilson / Gonzales County Line. It has been said that on clear nights, the lights of the other two towns could be seen from the third.

Contributor Sarah Reveley, has sent in a clipping from the August 5th, 1978 San Antonio Express News, telling of a visit to the three sites by local historians. Facts from the newspaper article and Ms. Reveley's photos have made it possible to include Union Valley in our town pages.

In the Express-News article written by George Carmack, the men who took the trip were Roy Sylvan Dunn and W.T. Connally, cousin to the former Texas Governor accompanied by other local historians.

Dunn had written a 1951 article in the Southwestern Quarterly called "Life and Times in Albuquerque, Texas" which included facts on Union Valley.

Connally, himself was born in the building that housed the local school (ground floor) and the Masonic Lodge above. His family was waiting for their home to be built when his mother went into labor and he was born in the classroom.

Since the families and histories are interwoven, we recommend reading the histories of all three towns. (See Nockenut and Albuquerque.)

The Union Valley historical marker is in old Albuquerque on private property and not accessible to the public.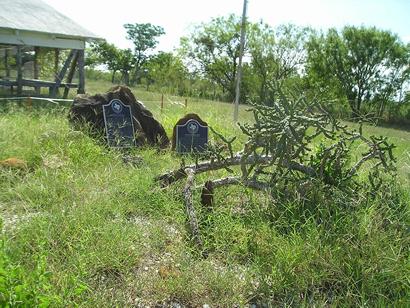 ---
Union Valley Cemetery
Union Valley Cemetery is about 5 miles NW of Nixon on FM 1681, near Union Valley and Albuquerque townsites.
Tombstones inUnion Valley Cemetery
Photos courtesy Sarah Reveley, 2007
Union Valley Texas Forum
Subject: Union Valley,Texas
I read your story on Union Valley where it said the population was zero. However, at the time I was there, about ten years ago, there were still people living in the town. There may still be. It was not a large population, but still had a few. Nockenut is nothing but a cemetery now as is (I think) Mound Creek where John Wesley Hardin's wife Jane is buried. There is no longer a highway sign pointing the way to Mound Creek, Sweet Home in Guadalupe County or several other places. I guess that makes them officially ghosts. - Hilda Hilpert, October 31, 2007
---
Texas Escapes, in its purpose to preserve historic, endangered and vanishing Texas, asks that anyone wishing to share their local history and vintage/historic photos, please contact us.