History in a Pecan Shell
Home to the first school in Atascosa County (1860) the community was first named Lucas after the nearby creek – both creek and community used the surname of a settling family.

With the opening of a post office in in 1891 (and the name Lucas already in use) a new name was required. Joseph Peynagrosse, suggested the name after a river in his native France.

The 1914 population was given as 30 although the local school reported many more students. The post office closed in 1914.

Verdi's school merged with nearby Pleasanton around 1950, which took away the community's identity. Today the population is composed of dispersed households with no discernable town center.
Historical Marker: 5.8 miles E of Pleasanton on SH 97, then 3 miles north on FM 1784
VERDI
By 1855, settlers primarily from Alabama, Arkansas, Georgia, Mississippi, Missouri and Tennessee, as well as some of Spanish origin, were making their homes in this area and calling themselves Lucas Community because of their proximity to Lucas Creek. In 1858 a Church of Christ was organized, followed by a Methodist church in 1859. Lucas Schoolhouse, located on this site, became a county polling place in 1860. A Roman Catholic congregation established St. Augustine Church in 1870. St. Augustine and Liberty schools were established before 1888. Friendship Baptist Church was organized that year.

Lucas Community was home to a farming and ranching population. They grew and raised their own produce, grains, dairy and meats. Cotton was the chief crop. In 1890, Sydney S. Smith applied for a U. S. post office in Lucas. The name Lucas already was in use elsewhere. According to local legend, French settler Joseph Peynagrosse chose the name Verdi for a river in his homeland. By the early 20th century, Verdi boasted schools, churches, a store, a post office, a blacksmith shop and cotton gins serving a large rural population.

The Lucas school had 101 students in 1904. In 1913 it was called the Verdi school and had 113 students and five teachers. The Verdi post office closed in 1916. The first high school senior class graduated in 1933. In 1954 the school was annexed to Pleasanton and the community declined. It was revived in 1979, when Verdi Community Center was established and became another focal point for the community. The story of the Verdi community is a vital part of Atascosa County's heritage and Texas history.
(2000)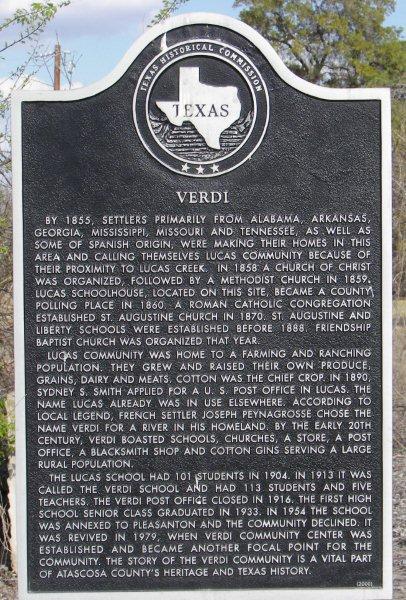 Texas Escapes, in its purpose to preserve historic, endangered and vanishing Texas, asks that anyone wishing to share their local history, stories, landmarks and recent or vintage photos, please contact us.