Named after Ludwig Boerne, a political refugee from Europe, this was "a thinking (Ger) man's town". History would have you believe that every farmer carried a volume of Schiller in his overalls. This, of course, is an exaggeration; it was every other farmer with a volume of Schiller (the rest carried Goethe).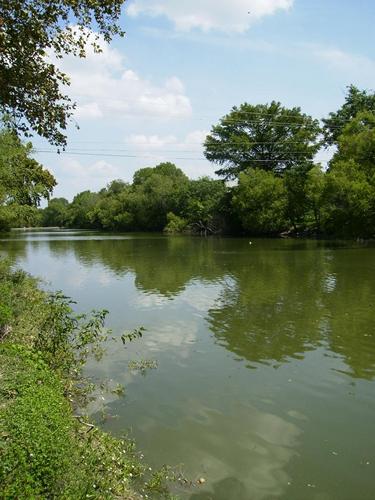 Boerne Attractions & Nearby Destinations:
Boerne's Library holds 33,000 volumes and boasts 8,700 cardholders. The library in the handsome Joseph Dienger Building at 210 N. Main Street has a statue of Ludwig Boerne near the main entrance.
Agricultural Heritage Center - 1.1 miles outside of town in Boerne City Park on Hwy 46 East.
A museum of agricultural implements.
A working blacksmith demonstration.
Open Wednesdays and Sundays 1:30 - 4:30.
Groups by appointment. 830-249-8000

Cave Without a Name - FM 474 NW for 6 miles, right 4 miles on Krentzberg Road. 830-537-4212. Admission.

Cibolo Wilderness Trail
Kronkosky Hill - 1911-17 Albert Kronkosky family homestead, now a school, with scenic overview

Kuhlmann-King Historical House -
402 E. Blanco St. 830-249-2030

Lake Boerne, just south of I-10 a short drive west of town.
Guadalupe River State Park >
From Boerne Hwy 46 east 13 miles to Guadalupe River State Park. This park is one of the Parks and Wildlife Departmentís crown jewels. Tall limestone bluffs dominate the cool inviting waters below. Tubing and canoeing are available. A two-mile hiking trail follows the river. 210-438-2656 more

More Nearby Destinations
See Swimming to Mexico >

Boerne Hotels > Book Your Hotel Here & Save
Staffel Store historical marker
Photo courtesy Sarah Reveley, February 2008
Back view of the Ye Kendall Inn
Photo courtesy Sarah Reveley, February 2008
Ye Kendall Inn historical marker
Photo courtesy Sarah Reveley, February 2008
Stone steps leading down to an abandoned swimming pool
Photo courtesy Sarah Reveley, February 2008
Boerne History
"... In 1849 a group of German colonists from Bettina camped on the north side of Cibolo Creek, about a mile west of the site of present Boerne. They called their new community Tusculum, after Cicero's home in ancient Rome. In 1852 Gustav Theissen and John James laid out the townsite and changed the name to Boerne in honor of Ludwig Boerne, a German author and publicist. A post office was established in 1856 with August Staffell as postmaster. The community had only ten houses in 1859, but it was chosen as county seat by a margin of sixty-seven votes after the county was established in 1862...." See Handbook of Texas Online
http://www.tshaonline.org/

Book Your Hotel Here & Save
Boerne Hotels
"Main Street, Boerne, Texas"

1887 Postcard courtesy rootsweb.com/~txgenweb// postcards/Index.html

"The Cibolo", Boerne, Texas

Postcard courtesy rootsweb.com/~txgenweb// postcards/Index.html
Boerne Tourist Information
Boerne's Chamber of Commerce at 126 Rosewood will provide you with a detailed map, as well as answer any questions you may have. They also have brochures for nearby attractions, dining and lodging. Their own publication (The Official Guide to Boerne) answers the questions you forgot to ask.
Phone: 888-842-8080 or 830-249-8000.
Website: www.boerne.org

Book Your Hotel Here & Save
Boerne Hotels