GUADALUPE RIVER STATE PARK

South on 281 brings you to Hwy 46 where you will turn right to Boerne and Guadalupe River State Park. After eight miles youíll come to the entrance to the park. This park is one of the Parks and Wildlife Departmentís crown jewels. Tall limestone bluffs dominate the cool inviting waters below. Tubing and canoeing are available. A two-mile hiking trail follows the river. Enjoy yourselves, but eventually they'll ask you to leave.
---
BOERNE

Continue on Hwy 46 to Boerne. Perhaps the most difficult part of writing this trip will be getting you to leave Boerne and continue. The banks of Cibolo Creek invite you to walk. So does the historic district with its specialty shops, restaurants and antiques. Beside the cleanliness and the shade, thereís the fact that real restaurants outnumber fast food franchises 4 to 1, and Beds and Breakfasts outnumber hotels 5 to 1!

A must stop is the Chamber of Commerce at One Main Plaza (830-249-8000), if only to see so many people so happy without being under the influence of alcohol. Walking tour brochures are available as well as directions to attractions nearby like The Cave With No Name. There used to be A Cave With No Directions, but nobody remembers where it is. In addition to The Official Guide to Boerne, thereís a handy one-sheet listing of all restaurants and accommodations.

The local Chamber of Commerce is a good indicator of a townís feeling toward tourism, and letís face it, weíre all tourists unless we always stay home. Boerne has a good attitude. (A bad Chamber is where they all wear T-shirts saying "Iím not a tourist, I live here"). It is no coincidence that towns that "have their act together" also have an active and cooperative Chamber.

Boerneís contribution toward staying wet comes in the form of a town lake (on Hwy 46) and Lake Boerne, just south of I-10 a short drive west of town. Continue on to Comfort.

Boerne Hotels > Book Here
---
COMFORT

A town comfortable with itself.

Most of Comfort is closed on Monday. This includes the Chamber of Commerce. Comfort is a quiet charming town with some fine specimens of Hill Country architecture. Most of downtown Comfort is in the National Register of Historic Places. Monday would be the ideal day for picture taking since the historic district is practically deserted. The library (closed Monday) has its initials etched in the glass doors which shows the townís appreciation for simple elegance.

Comfort is also comfortable with vegetation. Potted plants abound, and vines can stretch their tendrils into places suburbanites would never allow. Comfort has a good nursery (open Monday!) with unusual but not too exotic plants. It fits in quite well with the abundance of antique shops and Bed & Breakfasts. Itís nice to find a town that doesnít treat fallen petals like litter. This town can easily be thought of as a home away from home. Call the Comfort Chamber of Commerce, Box 777, Comfort 78013, Tel.210-995-3131 and ask them what they do on Mondays.

Avoid returning to I-10 and take Hwy 27 to Center Point.
---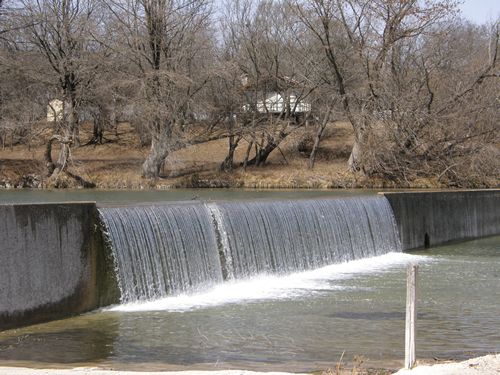 CENTER POINT

Here is a place where you can linger and get wet. Or get wet and then linger, itís up to you. The Guadalupe River is accessible one block west of "Downtown". A resident flock of ducks and a gaggle of geese swim silently through the green tinted water. Early in the morning swallows and scissortails dart across the river scooping up water in their tiny beaks. A small dam creates a waterfall that could almost put youÖÖ..

WAKE UP! Splash some water in your face and drive the eight miles to Kerrville.

Kerrville Hotels > Book Here
---
KERRVILLE

Most people have heard of Kerrville before they actually see it. This is due to their wildly famous folk-music festival held every Spring. Seeing Kerrville for the first time, most people are shocked at the amount of asphalt they see. I suppose itís because we associate Folk Music + Festival = Outdoors. Well, if it werenít for asphalt, what would we have? Mud, thatís what. And muddy people donít play music well, so get over it.

There is no shortage of nature in Kerrville, and a lot of it is right off downtown. In Kerrville access to the Guadalupe River is in Louise Hays Park south across the bridge on Hwy 16.

Kerrville Convention & Visitors Bureau: 210-792-3535.
Kerrville Hotels > Book Here


KERRVILLE-SCHREINER STATE PARK

Just south of downtown Kerrville on Hwy 16 across the bridge youíll see the sign for 173. Go left on 173 and two and a half miles later youíll come to the park entrance on your left. This 517-acre park offers canoe and tube rentals in the Guadalupe River. During the week itís very tranquil and on weekends itís still an improvement over the crowds found on the river back in Kerrville. Reservations recommended for overnight stay. Annual bicycling event every Easter Weekend. 830-257-5392.

SWIMMING TO MEXICO - Part III >
Click here to continue:
SWIMMING TO MEXICO - Part III > next page
Water: Medina, Sabinal, Nueces and Leona Rivers and Rio Frio
Towns: Medina, Vanderpool, Utopia, Concan and Uvalde
SWIMMING TO MEXICO
Introduction

SWIMMING TO MEXICO - Part I
Water: McKinney Falls, Aquarena Springs, San Marcos, Blanco and Pedernales Rivers
Parks: Blanco State Park, Pedernales Falls State Park
Towns: San Marcos, Wimberley and Blanco

SWIMMING TO MEXICO - Part II
Water: Guadalupe River
Parks: Guadalupe River State Park, Kerrville-Schreiner State Park
Towns: Boerne, Comfort, Center Point and Kerrville

SWIMMING TO MEXICO - Part III
Water: Medina, Sabinal, Nueces and Leona Rivers and Rio Frio
Parks: Lost Maples State Park, Garner State Park
Towns:Medina, Vanderpool, Utopia, Concan and Uvalde

SWIMMING TO MEXICO - Part IV
Water: Fort Clark and San Felipe Springs, Lake Amistad and Devilís River
Parks: Devilís River State Natural Area
Towns: Brackettville, Del Rio and Ciudad Acuna
Getting There from Dallas: Paluxy River, Dinosaur Valley State Park

Rivers Included in This Trip
Their Lengths, Sources, and Termination Points
Custom Search
Book Hotel Here - Expedia Affiliate Network