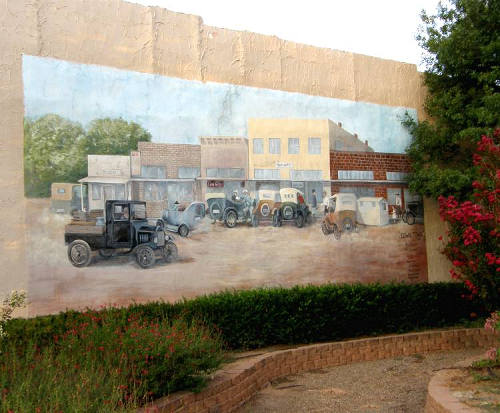 History in a Pecan Shell

What's not to like about Hale Center? Even the town's founding brought together two rival towns. According to the Handbook of Texas, these towns were named Hale City and Epworth and both were founded the same year of 1891. While Texas has a well-known history of small town rivalry, this is the first case we've heard of where both towns moved homes and buildings to a common location. Since it was a very centralized location, the name Hale Center was given as the requested name for the new post office.

The Santa Fe Railroad came through in 1909 and the town rebounded from a slump. After losing people during the Great Depression, growth was slow, but steady through the 40s and 50s. A devastating tornado occurred in 1965 which destroyed most of downtown.

Hale Center physician Ray Freeman and wife Marjorie were instrumental in starting the Hale Center Mural Project.
Bell Park Cacti Garden
Over 350 specimens
Intersection of Ave K and Cleveland Street
Hale County Farm and Ranch Museum
One mile south of town on Hwy 27
5 acre museum built around the 1910 Santa Fe Depot
Over 200 pieces of antique farm equipment on display
Open daily 1 to 5
806-839-2556
Historical Marker Text ( I-27 about .5 miles South of Hale Center)
Ranching and Farming in Hale County
Pioneer ranchers began to settle Hale County in the early 1880s. Land was plentiful and cheap, but life was hard. Many settlers lived in dugouts. Supplies were freighted from Colorado City until the railroad reached Amarillo. Cattle roamed the free grazing land until round-up time, when they were separated according to brands. Ranchers earned extra income by selling buffalo bones for fertilizer, working on the railroad, or hiring out to larger ranches. Many worked at the Circle Ranch of Col. C. C. Slaughter, which covered land in four counties. Other significant ranches included the Callahan, Barton, and Norfleet ranches. When the public land was gone and free grazing ended, the larger ranches were divided into smaller tracts.

The transition from ranching to farming was difficult. By the early 20th century, wheat farming and dairy production began to replace ranching operations. The Dust Bowl and Depression of the 1930s brought new hardships. Soon after World War II, however, a high percentage of the cultivated acreage in Hale County was under irrigation. This allowed for crop diversification with high yields of grain sorghum, corn, soybeans, wheat, vegetables, and livestock production. Cotton has become the leading cash crop.
(1985)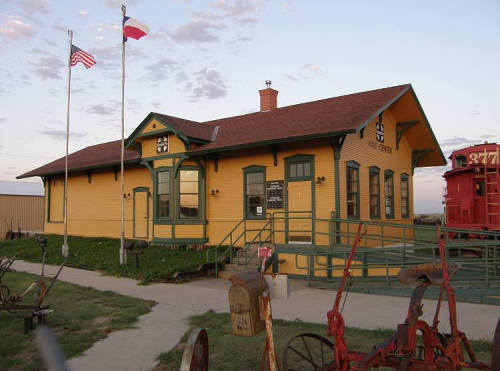 The 1910 Santa Fe Depot
Hale County Farm and Ranch Museum
1920s Hale County map showing Hale Center
(Under "A" in "H-A-L-E")
Courtesy Texas General Land Office
Hale Center, Texas Forum
Subject: another displaced Hale Centerite
Hello out there in West Texas.
I Just read Madrid's letter from Arizona that was born in Hale Center. I grew up on a farm and ranch 5 miles south and 2-3 miles west on the Cotton Center road (old Iowa Avenue). I was a McKnight born in 1934. Have great memories, but am now trying to find the history of the place I was born on. I even have an oil painting of the house.

I was a McKnight. My dad and relatives owned land all around that part of the county, but I've never known who the Harrell people were that we rented this place from. We never saw them in the 18 yrs I was growing up. We dealt with Mr. Hicks of Abernathy State Bank all those years. It had been an old ranch headquarters I always thought. It had first been an adobe smaller house, and later built over and onto with lumber. It was considered very old when I was born in 1934. I remember it had one of the gorgeous old oak wall phones that we kids played with, as there was no phone service in the 30's. It had old trees planted of course at that time. It also had some beautiful stained glass in one of the doors that was fast deteriorating. After we all left Hale County the Tullis family farmed that and I think Bob Watson some. Still the same thing, heirs, and no direct contact. I took small things from the old house and wanted to take it all, but as was not mine I did not. I was very sad indeed to find later that the farmer had burned the remains. I do have 2 adobe bricks and a closet door, of which I have memories of being locked in that closet as punishment. This ranch was in the area and era of Frank Norfleet, our neighbor that I remember when he was in his 90's. I have an autographed copy of his book.

Anyone know anything about the origin of the Harrell place, as my family has forever called it?? - Marita June McKnight Wood Barnett, Hanford Ca. dbarnet@sbcglobal.net, September 17, 2006


Dear TE, My name is Marylou Madrid. I was born in Hale Center, Texas but moved to Phoenix, Arizonia at the age of six. I am now forty-nine and don't know much about my hometown. I would love to see my hometown before my end of time. I was told that we lived next to some railroad tracks and I kind of remember looking out of a big picture window when it was snowing and hanging out with a little boy by the name of Willie picking up all kinds of frogs and putting them in empty coffee cans. To this day I still collect nic nacks of frogs. My parents are deceased now and I don't have not one picture of my home town. When people ask me where I was born and I tell them Hale Center, Texas - they look at me like I'm nuts and say "I never heard of Hale Center - where in the heck is that?" Even if I don't know much about my hometown, all I can say is that I'm proud to be a Texan. Thank you and God bless Hale Center, Texas....forever. - Marylou Madrid, August 11, 2006