HILLSBORO, TEXAS
"Antique Capital of I-35"
Hill County Seat, North Central Texas
Just off I-35
50 Miles S of Ft. Worth
55 Miles S of Dallas
33 Miles N of Waco
Population: 8,232 (2000) 7,072 (1990)

HILLSBORO LANDMARKS / ATTRACTIONS
Hillsboro abounds with handsome buildings. The chamber in the beautifully restored MKT (Katy) Railroad Depot is reason enough to visit Hillsboro. Lots of railroad artifacts and photographs of Hillsboro as it was. Hillsboro was also an Interurban stop between Dallas and Waco.

The Cell Block Museum (former Hill County Jail), just a block away, is one of the more attractive jails anywhere in Texas. Featured in Texas Highway Magazine's article on jails, this one had Elvis as one of its short-term guests. (Elvis was stationed at Ft. Hood).

The Texas Heritage Museum: Devoted to Civil War Era documents and exhibits, especially Hood's Texas Brigade. 3000 volume library.
On the Campus of Hill College. 254-2555 ext. 295
Open Monday through Saturday 9 to 4 and Sunday 11 to 4.
Pick up their brochure at the Chamber.

Hillsboro Junior College dates from 1923, but was closed in 1950. It was reopened in 1962 as Hill Junior College.

The 1913 Post Office is now the City Library. This was the first restoration project of Hillsboro in 1972.

Hillsboro Hotels > Book Your Hotel Here & Save
The 1913 Post Office is now the City Library.
This was the first restoration project of Hillsboro in 1972.
Photo courtesy Stephen Michaels, April 2008
More Texas Post Offices
"The building with 'The Spirit of Progress' on it was a Montgomery-Ward store. This image was M-W's logo and appears on many of their storefronts from the early 20th century. It's a good way to spot old M-W stores that have been converted to new uses." - Dwight Young.
Photo courtesy Stephen Michaels, April 2008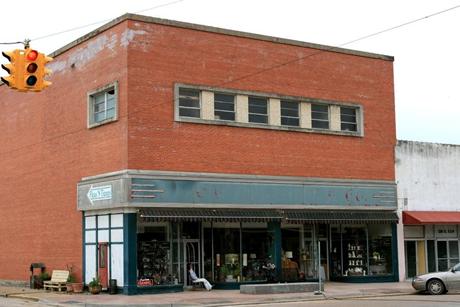 The 1890 Hill County Courthouse

This is the one responsible for making Texans aware their "temples of justice" were threatened and needed attention.

This wedding-cake masterpiece was designed by Wacoan Architect W. C. Dodson. The Cornerstone was laid without a horned toad in it in 1890. The stone came from another neighbor - Bosque County.

The courthouse won the Downtown Association's award for "Best Restoration 1999". Burned "beyond recognition" in 1993, you can now visit it as it was meant to be seen.

On the Square.

See
Hill County Courthouse by Sam Fenstermacher
County history, the courthouse, the courthouse square and other attractions.

Hill County Courthouse by Lou Ann Herda, Ed.D, July 2002

Prior to 1854, the county seat was spelled Hillsborough.
In 1890, Hillsboro's two newspapers were the Mirror and The Reflector.

Hillsboro Hotels > Book Hotel Here
Hillsboro Recreation

Lake Aquilla - I-35, FM310, 10 miles SW of Hillsboro.
Lake Whitney - FM1244, FM 1713
Lake Whitney State Park - Along the eastern shore of Lake Whitney, 16 miles west of Hillsboro.
Box 1175 Whitney TX 76692, 254/694-3793
Hillsboro Hotels
Hillsboro Chronicles

The Crash at Crush -
The field that once was Crush, Texas is now occupied by cows, but a recently replaced historical marker south of West, Texas tells the story of one of the most bizarre publicity stunts of all time.

The Great Airship Mystery by C. F. Eckhardt
On April 15, Attorney J. Spence Bounds of Hillsboro was returning from Osceola, in the southwestern part of Hill County. At about 9 PM he stated he and his horse were frightened by "a brilliant flash from an electric searchlight which passed directly over my buggy." He described the object to which the searchlight was attached as "in shape something like a cigar." Beneath it he described 'something similar to a ship,' which was attached to the cigar-shaped object. He witnessed the thing disappear behind a hill near the town of Aquilla, a little southwest of Hillsboro. As he got within a mile or so of Hillsboro, he saw the object rise from behind the hill and take off in the direction of Dallas at a speed he estimated at 100 mph.... more
Native Sons

Willie Nelson has a room (not cell) of his own, qualifying by being raised in nearby Abbott. Other hometown boys made good are the late Bob Bullock and Dr. Red Duke. There's a lot of Audie Murphy memorabilia as well. Although Murphy was from Hunt County, Murphy's Biography was written by the founder of the Texas Heritage Museum. (Our thanks to the museum's sidewalk bricklayers for letting us visit the museum outside of regular "visiting hours".)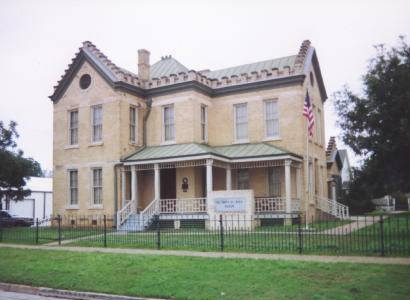 Hillsboro, Texas Forum
Subject: Hamlin's Bluebird of Happiness 1942
Dear Texas Escapes,

I am seeking information about two young (young in 1942-43) Black men. They were known as Joe B. and Slim.

Slim had two sisters Willy May and Lily May ? One was married to a man named James. They pulled cotton for my parents in 1942 or 1943 in Hamlin, Texas.

Most of [their] family moved on, but Joe B. and Slim did not yet wish to leave --- so they lived in our front living room for two more months before they returned to Hillsboro. My family at that time consisted of my parents (Herbert and Dolores Nauert) and me (Clinton aged 4).

After Joe B. and Slim went to town one Saturday on their return they gave me a tiny metal bluebird --- they had gotten from a box of Crackerjacks --- This was one of the only gifts I had ever been given --- other than at Christmas. I am now 68 years of age and I have never forgotten those fellows' kindness. Nor have I ever forgotten eating breakfast with them for those two months in 1942 or 1943. If I could contact them or one of their children I would just like them to know how a little kindness can mean so much to a child. My parents and I have very fond memories of those two really nice young men. Thank you, - Clinton Nauert, Greenwood, Arkansas, August 29, 2006
Texas Escapes, in its purpose to preserve historic, endangered and vanishing Texas, asks that anyone wishing to share their local history and vintage/historic photos, please contact us.
Custom Search