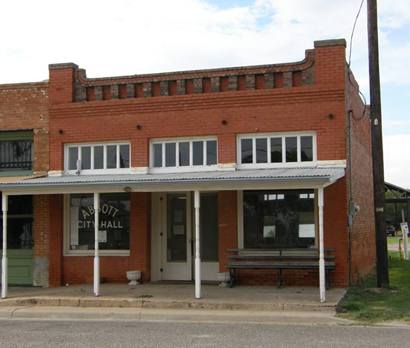 History in a Pecan Shell

The town was named after Joseph Abbott, lawyer, teacher, judge, and U. S. congressman for District Twenty (Ellis, Hill, Kaufman, and Navarro counties).

The Missouri, Kansas and Texas railroad arrived in 1881 and a post office was opened the following year.

In the 1890s Abbott had two cotton gins, and a gristmill as well as the essential businesses every small town needed. The town had a series of fires (1897, 1903 and 1904) but rebuilt each time. An interurban railway connecting Forth Worth and Waco was established in 1913 - the same year Abott was electrified.

In 1920 a paved highway was built and things looked promising. But after the Great Depression arrived, the town became a flagstop on the railroad. School enrollment was 240 in 1930 but with consolidations of other schools - this increased to over 500.

From only 156 people in 1890, Abbott reached it's peak in 1914 with 713 citizens. By the start of WWII there were only 264 people - not far from what it is today.

It is against the law in Texas to mention Abbott without declaring that Willie Nelson is from Abbott. Old-timers still remember Willie carrying his guitar to school and one person we talked to reported that he thought that Willie's sister played guitar better than he did.
Abbott United Methodist and Baptist Churches
Photo courtesy Barclay Gibson, 2007
Abbott Baptist Church historical marker
Photo courtesy Barclay Gibson, 2007