New Ulm Cemetery
TE Photo, December 2001
Historical Marker (on 2647 FM 109):
New Ulm Cemetery
The town of New Ulm was originally called Duff's Settlement at the time of its founding, and was named for James C. Duff, who in 1841 acquired title to the site upon which the sttlement was founded. A post office began operation in 1853. At that time, the town's name was changed to New Ulm in honor of Ulm, a city in the province of Württemberg, Germany, which was the homeland of many early settlers.

The orignal town was established near the site of New Ulm Cemetery, one mile north of the present town of New Ulm. In 1892, the Missouri, Kansas, and Texas Railroad Company of Texas laid tracks, streets and lots one mile south of the existing New Ulm for a new townsite, and settlers soon abandoned the former location.

The earliest recorded burial in New Ulm Cemtery is that of C.J. Schuette, who was interred in 1853. Also buried at New Ulm Cemetery is Josef Lidumil Lesikar, who was a leader in bringing early Czech settlers to America. The earliest land and burial records for New Ulm Cemtery were lost in a fire, but existing records show that property was sold to the New Ulm Cemetery in 1889, and the New Ulm Cemetery Association was already in existence by 1915. A decoration day has been scheduled every year since at least 1919. The annual decoration day is still held, with services alternating between St. John Lutheran Church of New Ulm and the Industry United Methodist Church. Many improvements have been made to the cemetery throughout the years, including the construction of an impressive entrance in 1924, a storage building in 1933, and a chapel in 2002. Burials in New Ulm Cemetery include veterans of the Civil War, World War I, World War II, the Korean War and the Vietnam War.
Historic Texas Cemetery-2008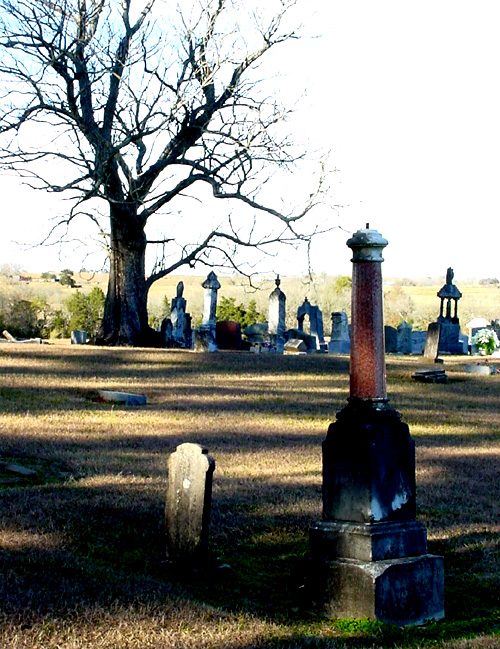 New Ulm Cemetery tombstones
TE Photo, 2001
New Ulm Cemetery plaque
TE Photo, 2001
New Ulm Cemetery angel
TE Photo, 2001
Broken tombstone
TE Photo, 2001
WWII tombstone
TE Photo, 2001
See WWII
Sailer Tombstone
TE Photo, 2001
New Ulm Cemetery Gate
TE Photo, December 2001
Travis Davis Cemetery
TE Photo, 2002
Frnka Family Cemetery gate
TE Photo, 2001
New Ulm Cemetery Cat
TE Photo, 2002
Texas Escapes, in its purpose to preserve historic, endangered and vanishing Texas, asks that anyone wishing to share their local history, stories, landmarks and recent or vintage photos, please contact us.